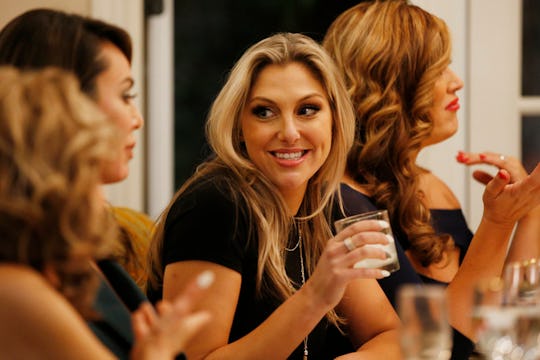 Phillip Faraone/Bravo
'RHOC' Star Gina Kirschenheiter Is New To Orange County
There's been something a little different about Gina Kirschenheiter ever since she first appeared on The Real Housewives of Orange County. Her distinct accent made her stand out from the other women in her neighborhood, and even served as her tagline for the season: "I speak the truth," Gina proclaimed. "Even if it sounds funny when I say it." But what is the source of her non-Californian accent? Where is Gina Kirschenheiter from?
You might have already caught the answer in an episode of RHOC, but Gina and her husband Matt are from Long Island in New York. (Petition for a RHONY crossover, please.) They relocated to Orange County three years ago, but before that they'd spent their whole lives on the East Coast. According to Newsday, Gina was born in Rockville Centre and grew up in North Babylon alongside her older brother Chris Archer. She attended North Babylon High School before going to Hofstra University (also in Long Island), where she met Matt. After they were married, they stayed put in Long Island for a few years before his job prompted them to move across the country.
Since then, Gina has had a little bit of trouble adjusting to her new home, which she discussed with Bravo's The Feast.
The food was perhaps the biggest problem. It wasn't that the food in the O.C. was bad, it just wasn't quite the same as it was in New York — especially when it came to pizza. "There is different pizza here, and if you accept that it's different, then it's good. But it's not what I'm used to. It's not familiar," Gina said. "There's no pizza counter. Always on the way from work or whatever, you get a couple slices, you bring it home, you reheat it on the oven, or you have it the next day. There's nothing like that [in Orange County]."
She also took issue with the preponderance of kale in Southern California, noting that it was in everything and popped up everywhere. But luckily when it came to the delicacies that truly couldn't compare, she had family to help her satisfy any homesick cravings. As Gina explained:
I don't think a California bagel is worth it. So, my mother in law, every time she comes, vacuum seals bagels for me and travels with them. Everything [bagels are] my favorite, so they're like stinking up the whole plane — but she does it for me. That's dedication. That's love.
Jokes about food aside, Gina discussed how being far from her extended family made things difficult in her personal life, too.
"On Long Island, marriage is a community thing," Gina told People. "Your parents, your in-laws, your siblings, your friends, your family — they're all a part of your relationship. You don't think about breaking that up." However, once she and Matt were in California, they had to rely on each other in a different way. That was part of what led the Kirschenheiters to reevaluate their relationship and decide to separate.
Gina has only been in Orange County for three years, but despite some bumps in the road, it seems like she's here to stay.