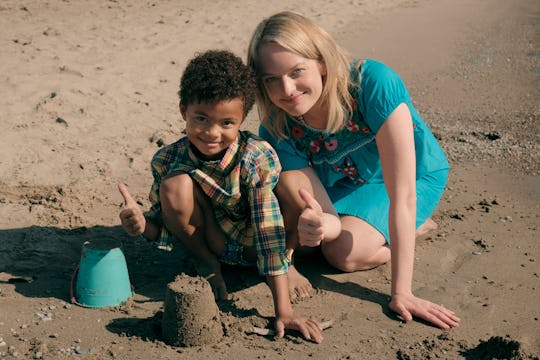 George Kraychyk/Hulu
Here's What We Know About Hannah's Whereabouts On 'The Handmaid's Tale'
On The Handmaid's Tale, June has been eager to reunite with her family ever since they were separated, though she's been faced with obstacles at every turn. Not long after the Republic of Gilead rose to power, June tried to cross the border into Canada with her husband Luke and daughter Hannah, but they all ended up in different places: Luke continued up north, June became a Handmaid, and Hannah was relocated somewhere within Gilead. June only saw her once, briefly, since then. So where is Hannah on The Handmaid's Tale?
There are no solid details on Hannah's location. Nick promised June that he would try to find out, but it seems the only person who knows the answer is Serena Joy Waterford. After finding out that June was pregnant, Serena packed her up into a car and drove her to a house where Hannah was living. It wasn't clear how far away the house was or who Hannah was living with. June wasn't able to speak to her, either; she could only scream desperately through the window while Serena talked to Hannah for a few minutes. It seemed likely that Hannah was still in Massachusetts since she was driving distance from the Waterford home, but identifying information was scarce.
That was back in Season 1, however, and a lot has changed since then.
There is a chance that Hannah is exactly where June last saw her, wherever that was. There isn't much danger in June tracking her down because she was prevented from seeing street signs or anything else that might have been memorable enough to recognize later. But June has proven herself to be quite a rebellious handmaid by escaping and going on the run for months before trying to get on a plane for Canada. Keeping a closer eye on her will likely be a precaution the Waterfords take now that the promo for Episode 4 shows she's under their roof again, but it might not end there. They might indicate that Hannah needs to be moved so June can't try to find her.
It doesn't seem like residents are moved far from their original homes, though, unless they have committed a horrible crime and been sentenced to the Colonies. June, Emily, Moira, and many of the other women all lived in Boston back when the United States government was still in control; they continued to live there afterwards. It's easy to theorize that Hannah is still nearby because of that, though once again her exact location is hazy.
As of this moment, that's all the information June has on Hannah and the audience isn't any better off. In Episode 3, June had to make peace with the idea of leaving Gilead without Hannah. She had to accept that she would not be able to get Hannah back and save herself at the same time; she could only choose one, because she didn't know where Hannah was and she was being hunted by the government at all times. June had to try to leave even though Hannah couldn't come with her.
But June was not successful in getting out, ultimately. While that's heartbreaking, it does make it slightly more possible for her to figure out where Hannah is. She's back in the area where Hannah probably lives and she has a couple of months of safety until her second child is born. Perhaps June can finally get some answers about her daughter using the resistance network. If she managed it, she'd have a choice to make. June would have to decide if she should risk everything once again to get her daughter back and make a break for it even though her last few attempts failed.
But that's speculation for the future. The first step is finding Hannah, and June might be able to do that now.
Check out Romper's new video series, Romper's Doula Diaries:
Watch full episodes of Romper's Doula Diaries on Facebook Watch.