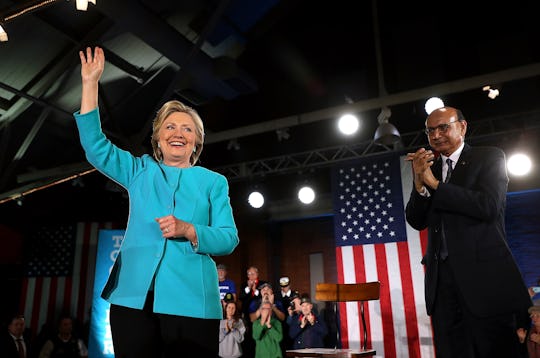 Justin Sullivan/Getty Images News/Getty Images
Where Is Hillary Clinton During Election Night? She's Holding Up In New York City
Election night is finally here and the numbers are starting to roll in. Soon enough, you'll be crying or celebrating from wherever you may be watching election coverage. But where is Hillary Clinton during election night? In the past, presidential candidates have hosted election night parties in a myriad of places, from their homes, to convention centers, to hotels, and many places in between. And the Democratic nominee is no exception to the party rule.
As Fortune noted, the 2016 election marks the first election since 1944 to host two major-party candidates who both hail from New York state. So it should come as no surprise that both candidates recently announced that they'll be spending the evening with their respective teams in New York City. Sabrina Siddiqui, a reporter for The Guardian, tweeted that Clinton would be watching the results from The Peninsula Hotel in midtown Manhattan. But she won't be staying there the whole night. According to CNN, Clinton will hold her election night festivities at the Jacob K. Javits Center in Manhattan.
The location, which has hosted many large-scale events including New York Comic Con, has been under construction in order to prepare for the election night. Fortune noted that workers were busy building a stage shaped like the United States. Fancy, right?
But the Clinton Team didn't stop with a patriotic stage. Buzzfeed News reported that Clinton was reportedly planning a fireworks display on the Hudson River to celebrate her impending victory. In a press conference Monday afternoon, however, New York Police Department Chief of Intelligence Tommy Galati revealed that the Clinton campaign fireworks had been cancelled. According to the New York Daily News, Galati declined to elaborate on why Clinton's camp decided against the fireworks but that it has the permit should things change.
Clinton's supporters started lining up outside the Javits Center early Tuesday morning, according to ABC News. And, a quick look on social media will show that things have only revved up since then.
So why did Clinton choose a location that any Manhattan resident will tell you is out of the way. Well, her decision may have been influenced by irony. According to CBS News, Republican nominee Donald Trump once lobbied for the Javits Center to be named after his family. In his book, The Art of The Deal, Trump wrote that the city chose a different developer and name, which clearly colored his decision. In the book he wrote:
The construction was a terrible disgrace, and all the worse because no one raised a fuss about it. When I was invited to attend opening-day ceremonies in 1986, I refused. What happened at the convention center is that the city and state took a great piece of property and a great project and ruined it through terrible planning and ridiculous cost overruns.
So is is Trumps unsavory ties that led to Clinton's decision? Maybe. But it may have also been a particular feature of the Javits Center that lead to her choice. The location has a literal glass ceiling; much like the figurative ones Clinton has been shattering throughout her whole life.
Regardless of what happens tonight, it is clear that Clinton will have many people supporting her and her road to shattering glass ceilings around the country.