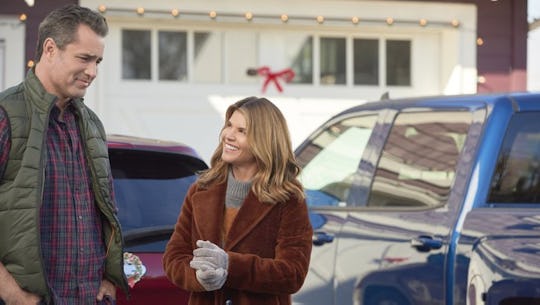 Hallmark/Crown Media
'Homegrown Christmas' Will Make You Want To Go Home
It's officially December, friends. That means if you haven't stepped up your holiday movie game, now is the time. With Hallmark's Countdown to Christmas in full effect, you have no real excuses not to take the weekend to "Hallmark and relax." One of the upcoming originals, Homegrown Christmas should put you in the Christmas spirit. The scenery on set alone (hello, snowmen and holiday parties) will give you all the wintery feels. So where is Homegrown Christmas set?
While there isn't a specific answer as to the movie's inspiration for the town, Homegrown Christmas has a 30-second promo video on the Hallmark website. If you watch the clip enough times, and are paying extremely close attention, you'll see the name of the town's supposed high school on a banner during a holiday party or fundraiser (it's unclear until you've watched). The name of the school looks to be Claremont High School, though there's no further reference to a town or state.
So it may not be an exact answer as to where Homegrown Christmas is set, or even a major clue about the town (fictional or not), and may not even be the full, correct name — because the banner cuts off near the top of the video — but if you really must know the answer of where it's set, this is, unfortunately, the best it gets until you watch.
With all the holiday movie competition this time of year, it might help to know more about the movie itself before you invest. That's what I'm here for. Homegrown Christmas follows Maddie (Laurie Loughlin), a CEO and socialite whose husband is arrested for insider trading (yikes). Ashamed, she decides to step down from her demanding job in order to get a little clarity on the direction of her life, choices she's made, and the state of her future without her husband. She makes the journey to her hometown (as most protagonists in these movies often do), where she runs into her high school sweetheart, Carter (Victor Webster). You might think it's an instant reconnection but that's not the case. There's a lot of tension and awkward interactions. That is, until the two have to put their differences aside to organize the local high school's Christmas dance — possibly Claremont High School — where they maybe, probably, feel all the old feelings of love and stuff.
It's a busy time for Loughlin who not only stars in the Fuller House re-boot with longtime castmates, but she's got the Hallmark bug with four additional movies for the network. You can check her out on the Hallmark Movies & Mysteries channel where there are four Garage Sale Mysteries movies. They may not be holiday-themed, but it'll prime you for more Loughlin, which is never a bad thing. As for her costar of Homegrown Christmas, Webster, you may remember him from his role as Nicholas Alamain on the NBC daytime soap Days of Our Lives or from a bunch of other sitcoms, dramas, and movies.
With the perfect romantic, holiday movie setup, a Full House alum, and a whole bunch of Christmas scenes (cookie baking! holiday wear! snow!), it shouldn't matter where it's set, or if it's real of fictional. Homegrown Christmas looks like Christmas and feels like Christmas (and has Christmas in the title), and that's good enough for me.
This first-time mom wants to have a home birth, but is she ready? Watch how a doula supports a military mom who's determined to have a home birth in Episode One of Romper's Doula Diaries, Season Two, below. Visit Bustle Digital Group's YouTube page for the next three episodes, launching Mondays in December.