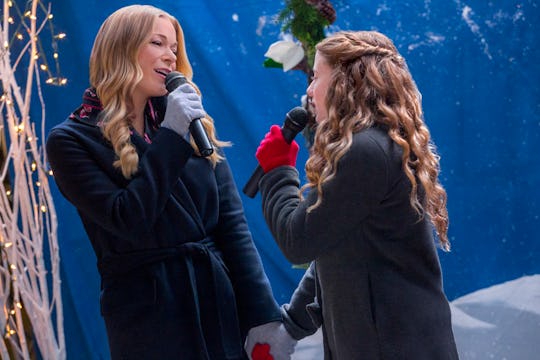 Ryan Plummer/Crown Media
LeAnn Rimes' New Hallmark Movie 'It's Christmas, Eve' Will Get You In The Holiday Spirit
Hallmark movie fans are getting into the holiday spirit with the network's "Countdown to Christmas" movie schedule. One of the most anticipated films on the roster is It's Christmas, Eve starring country star LeAnn Rimes and actor Tyler Hynes. It's the perfect small town holiday story, so fans want to know, where is It's Christmas, Eve set? The movie is set in a small Pennsylvania town, which gives it that perfect, cozy holiday feel.
According to the film's synopsis, It's Christmas, Eve is set in Franklin, Pennsylvania — a real town that sits 75 miles north of Pittsburgh. In the movie, Franklin is titular character Eve Morgan's (LeAnn Rimes) hometown, which she left 16 years ago after her father's death. Unable to settle down permanently, Eve travels the country as an interim school superintendent, as she tackles school's budgeting issues. When she is assigned to her hometown of Franklin, she analyzes the high school's budget and decides that their music and arts programs must be cut. But after falling for the school's music teacher Liam (Tyler Hynes), and finding her passion for music with her mom Nella (Gwnyth Walsh) and stepfather John (Laurie Murdoch), Eve's holiday spirit is reawakened, which makes her decision to cut the music program more difficult.
It's Christmas, Eve is Rimes' first Hallmark movie, but she's doing more than just acting. In an interview with Taste of Country, she talked about her role as the film's executive producer and how she incorporated her personal passions into the project. "Coming in as an executive producer is something I really enjoyed," said Rimes. "Hallmark was super open to what I wanted to talk about and what was important to me to include in the film." Two subjects she was most passionate about translating into the movie were portraying a loving blended family and the importance of keeping music and arts programs in schools.
Along with acting and producing It's Christmas, Eve, the singer-songwriter has also recorded three new original holiday songs for the film. According to Country Living, Rimes co-wrote and sang the songs "The Gift of Your Love," "It's Christmas Eve," and "You and Me and Christmas" which are featured as part of the movie's soundtrack. In her interview with Taste of Country, Rimes revealed that she co-wrote the songs with her long time collaborator Darrell Brown, and wrote two of them over FaceTime just a few weeks before the film began shooting. She also told the outlet that one of the film's songs makes her emotional every time she sings it, and she hasn't yet managed to get through it without tearing up.
"I do cry a lot and I have a lot of emotion when I perform — I think that comes across in the film as well," she told the outlet. "And I don't think I've made it through the song 'It's Christmas Eve' without crying when I sing it." Fans can also catch Rimes performing the holiday songs on stage as part of her upcoming "You and Me and Christmas Tour," which hits 11 cities starting Nov. 30 through Dec. 19.
It's Christmas, Eve will premiere during Hallmark Channel's "Countdown to Christmas" schedule, which is currently airing nonstop holiday programming through Dec. 29, including 22 new original Christmas movies. In the meantime, fans can get a sneak peek at the film with its trailer and get into the holiday spirit with its soundtrack, which is available to download on Spotify, Amazon Music, and Google Play Music.
It's Christmas, Eve premieres on Saturday, Nov. 10 at 8 p.m. ET on the Hallmark Channel.
This article was originally published on