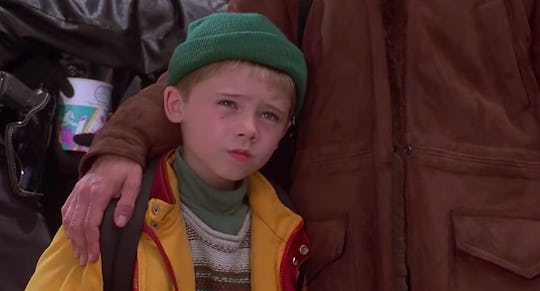 20th Century Fox
The Kid From 'Jingle All The Way' Faced A Difficult Time In Hollywood
The plot of 1996's Jingle All the Way revolved around Arnold Schwarzenegger's Howard trying to do the impossible: get a popular Turbo-Man action figure for his son Jamie. The resultant shenanigans took him from workaholic father to dedicated dad, proving he would do anything for his son. Jamie may not have been the main character of the film, but the story couldn't have happened without him. So where is Jamie from Jingle All the Way now? How did things turn out for young actor Jake Lloyd after the credits rolled?
Now 28 years old, Lloyd is no longer acting. He had received some very high profile roles before deciding to give up on the business, and the intense scrutiny that resulted seemed to be a contributing factor in his choice. Before Jingle All the Way, Lloyd's biggest role had been a guest spot in four episodes of E.R., but later on he landed the role of Anakin Skywalker in the Star Wars prequel The Phantom Menace. He did some voice work for Star Wars-related projects after that and appeared in the movie Madison, but Lloyd was done with acting by 2001. Unfortunately, his most major role was also the one that made him give up on movies.
The Stars Wars prequel trilogy is far from popular among most fans. The films were routinely panned and mocked upon release, which was incredibly hard on the very young Lloyd. The criticism was both professional and personal: he was nominated for a Razzie for his performance and also bullied so much at school by the other kids that it led (in part) to him choosing to retire from acting. His career kept him very busy for a 10-year-old kid, too, since he had so many interviews and appearances.
"Other children were really mean to me," he told The Sun in 2012. "They would make the sound of the light saber every time they saw me. It was totally mad. My entire school life was really a living hell — and I had to do up to sixty interviews a day." He later added, "I've learned to hate it when the cameras are pointed at me."
He moved to Chicago and distanced himself from Star Wars, even supposedly destroying all his memorabilia from the film. He would occasionally show up at conventions, but otherwise avoided the spotlight. According to Cosmopolitan UK, he briefly studied film and psychology in college, but left school after a year.
In June of 2015, Lloyd led police on a chase in South Carolina for 25 miles before crashing his car. Entertainment Weekly reported that he was not intoxicated at the time, but he was arrested for failing to stop for officers, resisting arrest, reckless driving, and driving without a license. He remained behind bars until April 2016, when he was moved to a psychiatric facility. His mother Lisa informed TMZ that Lloyd suffered from schizophrenia, but his mental health was improving after getting help.
There has been no public update on Lloyd since, which is probably for the best considering how intensely he shunned the cameras following his childhood fame. His mother did not indicate a planned date of release when she spoke to TMZ, instead making it clear that his health was the priority and they were going to take their time with his recovery.
It's unfortunate that Lloyd's experience in Hollywood was such a negative one, and disappointing that people would criticize a kid's performance in a series where even adults struggled with the dialogue. One can only hope that now Lloyd is on his way to feeling better and finding happiness.
Check out Romper's new video series, Romper's Doula Diaries:
Watch full episodes of Romper's Doula Diaries on Facebook Watch.