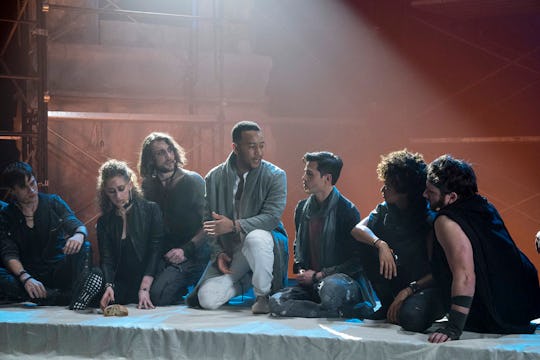 Virginia Sherwood/NBC
'Jesus Christ Superstar Live!' Will Be Unlike Any Other Live TV Musical For This One Reason
NBC is bringing another live musical to your television screens with its production of Jesus Christ Superstar Live! However, this performance will be a bit different from the other live TV musicals that have come before it. Rather than being shot at a studio in Los Angeles, the event will take place in a different venue. So where is Jesus Christ Superstar Live! being filmed?
Because the show is a rock musical, or opera, with no speaking roles, it makes sense that the show would be done in the form of a concert. So for this live musical, it will actually be filmed at the Marcy Armory in Williamsburg, Brooklyn as a live concert event. This style is little similar to Hairspray Live! and Grease Live!, which were done in front of live studio audiences that became part of the show, however, Jesus Christ Superstar Live! appears to taking place on one main stage, so it really will have a concert-like atmosphere.
Starring in the show are Oscar, Grammy, and Tony-winner John Legend as Jesus Christ himself, Grammy-nominee Sara Barielles as Mary Magdalene, and rock legend Alice Cooper as King Herod. The show will also feature Tony-nominee Brandon Dixon as Judas, Tony-nominee Norm Lewis as Caiaphas, Tony-nominee Ben Daniels as Pontius Pilate, Broadway vet Jason Tam as Peter, M. Butterfly star Jin Ha as Annas, and Swedish rocker Erik Gronwall as Simon Zealotes. As you can see, this is a pretty talented cast.
If you're unfamiliar with the musical, it's loosely based on the last week of Jesus' life before being crucified, as told by the Bible. The rock musical was originally composed by three- time, Tony-winner Andrew Lloyd Webber and written by three-time, Tony-winner Tim Rice, both of whom signed on as executive producers of Jesus Christ Superstar Live!, along with Legend. Thus, there's also a powerhouse working behind-the-scenes on this production.
Jesus Christ Superstar has been around for decades, first appearing as a double-LP concept album. The album, of course, did amazingly well and one of the songs, "I Don't Know How to Love Him," became a Top 40 single. The album itself made it to the Billboard album charts, which is why it's no surprise it was then turned into a Broadway musical in 1971. Since then, there's been two Broadway revivals, two films, and a number of U.S., U.K., and Australian tours. It also went on to have two runs on the West End in London and a U.K. arena tour. To say the show has been a success would be a grave underestimate; it's become a phenomenon.
The various iterations of the show has received a number of accolades, from Tony nominations to an International Emmy Award win. This proves it's not only popular, it's incredibly good, and this version will be no different. No doubt Jesus Christ Superstar Live! will probably get at least an Emmy nomination, and if it does win, that would also complete Legend, Webber, and Rice's EGOT. Legend would be the first African-American man to EGOT in just competitive categories (both James Earl Jones and Quincy Jones have EGOTs with special awards). So this could be a very monumental musical production for everyone involved.
Besides that though, the show just looks like it'll be amazing and fun to watch. Even if you've seen Jesus Christ Superstar before, you've never seen it like this, so definitely make sure to check it out. Jesus Christ Superstar Live! airs on Sunday, April 1 at 8 p.m. EST on NBC.
Check out Romper's new video series, Romper's Doula Diaries:
Watch full episodes of Romper's Doula Diaries on Facebook Watch.