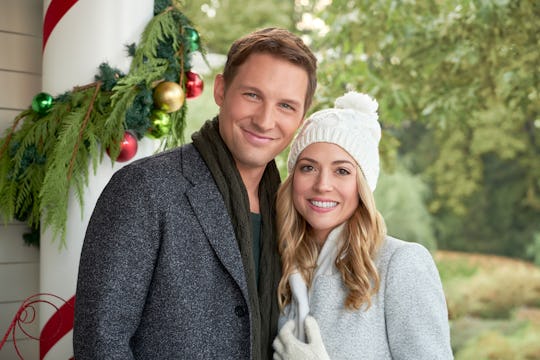 Bettina Strauss/Crown Media Press
Hallmark's 'Jingle Around The Clock' Is Set In This Iconic American City
No matter what kind of weather you're facing, you can always count on the wintry landscapes of Hallmark's holiday movies to get you into the spirit of the season. The network's latest offering, Jingle Around the Clock, takes place in a bustling, snowy city. The backdrop looks charming and inviting, so fans are wondering, where is Jingle Around the Clock set? It looks like the movie drew its inspiration from one of the windiest cities around.
Jingle Around the Clock is set in Chicago, Illinois, but the movie wasn't filmed there. According to The PDX Girl, the film was shot in Maple Ridge, British Columbia, and many of the scenes and sets were produced to look like the city of Chicago. The ice skating rink and Chicago Christmas Fair shown in the film were sets built by production, reported the outlet, with a mix of real and fake snow covering the ground and trees. Chicago winters usually have no shortage of real snow, but like many Hallmark films, Jingle Around the Clock was probably filmed in Canada because of the country's lenient tax laws.
The film tells the story of Elle Bennett (Brooke Nevin), an ad agency executive from Chicago who is planning her annual Christmas party. Every year since she was in college, Elle has hosted a holiday gathering with her close friends, and now that her grandmother has passed, the party is even more meaningful to her. While sitting and planning the party with her buddies Alexis' (Lara Gilchrist), Jay (Jeremy Guilbaut), and Ryan (Nelson Wong) at a neighborhood coffee shop, Elle eyes a handsome new man. When her friends insist she talk to him, she reluctantly tells them that she has no time for romance between her demanding work schedule and all her holiday prep.
When she's called to work later that day, Elle's boss tells her that she must work with a new executive will be flying in from New York to handle a company crisis. Elle realizes that the new guy's presence could affect her chances of getting a promotion, so she starts working extra hard to make sure she stays on top of things. When Elle heads to her favorite booth at the Chicago Christmas Fair later that evening, she meet's the booth owner Nancy's (P. Lynn Johnson) son, Maxwell "Max" Turner (Michael Cassidy). He's the same handsome man she saw at the coffee shop earlier that day, and he tells her he is in town for some ad agency work.
Elle quickly learns that this is the same New York executive her boss told her about, and the two realize that they will have to work alongside each other to solve the company's crisis. With the help of Max's sister, Oakley (Andrea Brooks), a professional party planner, Elle and Max are able to successfully merge their ideas at work. The two develop romantic feelings for each other, but when Max tells Elle that he's thinking of staying in Chicago to apply for the job she was hoping to get, things get complicated. Max offers to bow out of the running, but Elle tells him he should still apply, so that the job goes to the best candidate.
But on the day of the job interview, things start going south. Not only is Max using Elle's pitches in his interview, he's also making her run late. She's heartbroken at his betrayal and the fact that she might miss her beloved party because of him. It turns out that she may have misread Max, and he may actually be working to make this Christmas better than she ever expected.
With such a bustling storyline, it's no wonder the movie is set in an iconic city like Chicago. And while it wasn't filmed there, Jingle Around the Clock still highlights some of that Windy City charm.
Jingle Around the Clock premieres Saturday, Dec. 22 at 8 p.m. ET on the Hallmark Channel.
After a very frustrating first birth experience, this Deaf mother wanted a change. Will the help of two Deaf doulas give the quality communication and birth experience this mom wants and deserves? Watch Episode Four of Romper's Doula Diaries, Season Two, below, and visit Bustle Digital Group's YouTube page for more episodes.