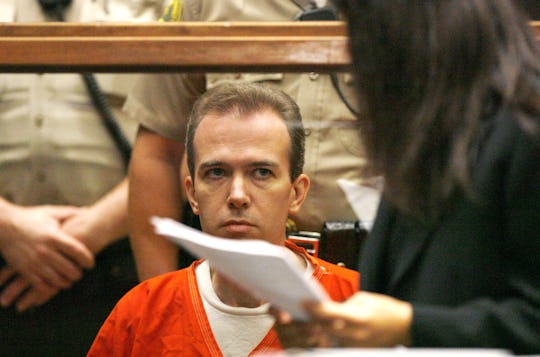 Pool/Getty Images News/Getty Images
Where Is John Mark Karr Now? JonBenet Ramsey's Confessed Killer Has An Interesting Story
A full 10 years after JonBenét Ramsey's murder in 1996, a schoolteacher named John Mark Karr falsely confessed to the crime from Bangkok, Thailand, where he had been arrested for a possible connection to the murder. While it's unconfirmed whether or not the upcoming docu-series The Case of: JonBenét Ramsey will include Karr's story in its reexamination of the case, his involvement is undeniably bizarre. It's the only confession to her murder authorities ever received, even though no one has ever been charged in the case. So where is John Mark Karr now? He was last seen in the spotlight in 2010, when he was reportedly identifying as transgender and living as a woman named Alexis Valoran Reich or Delia Alexis Reich. She hasn't really been heard from since.
Back in 2006, Karr was emailing a University of Colorado professor named Michael Tracey, who had produced a documentary about the JonBenét Ramsey case. The nature of the emails was disturbing and suspicious enough that Tracey wound up reporting Karr to the police, who coordinated with Thai officials to arrest him while he was teaching in Bangkok. It was then that he falsely confessed to JonBenét Ramsey's murder. His motivations at the time were unclear, but experts speculated that he may have done it for the notoriety or simply because he was terrified of the Thai prison system, and knew that if he confessed to an American crime, then he would be extradited.
Once he was back in the States, authorities determined that there was insufficient evidence to charge him with the crime, in spite of his confession. His DNA did not match the DNA found on Ramsay's body and he failed to provide details of the crime that were not already public. His ex-wife also claimed that they had spent the Christmas holidays together in Alabama in 1996, and Ramsey's murder took place in Boulder, Colorado. That same year, Karr had been dismissed from his elementary school teaching job on the grounds that he had been "too affectionate" with students, and in 2001, he was arrested on child pornography charges.
Ultimately, both the child pornography charges and the charges related to the Ramsey murder case were dropped, but he was arrested again in 2007 for a domestic dispute with his girlfriend. Then, in 2010, both the Seattle and San Francisco police departments were looking for him in connection to a stalking case-turned-cult following.
It was around this time that Karr began popping up on Facebook using their female identity, claiming alternately that they had already undergone gender confirmation surgery and that they were undergoing hormone replacement therapy in preparation for gender confirmation surgery. Neither of these reports have been confirmed, and authorities assumed that Karr was simply living as a woman to disguise himself better.
Whether or not Karr/Reich is currently identifying as transgender remains unknown, since not much was made of them after that 2010 blip on the radar. Perhaps, six years later, The Case of: JonBenét Ramsey will be able to shed some light on Karr's whereabouts.