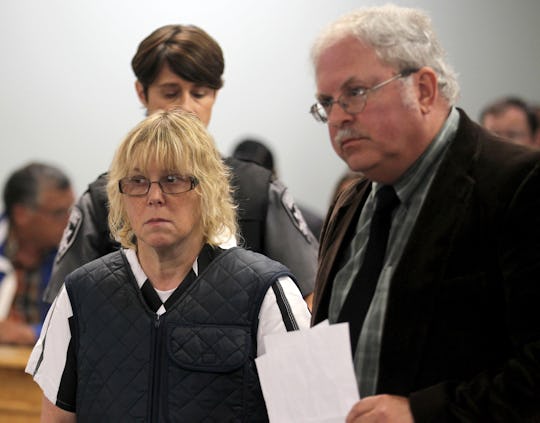 Pool/Getty Images News/Getty Images
This Is What Joyce 'Tilly' Mitchell Has Been Up To Since Her 2015 Arrest
It's been three years now since the daring escape of inmates David Sweat and Richard Matt (both convicted murderers) from Clinton Correctional Facility in Dannemora, New York. Though they didn't escape alone. With the help of an employee from the prison's tailor shop, Joyce 'Tilly' Mitchell, the two were able to pull off one of the most head-scratching, intricate crimes in history. Now that Showtime's released a fictional account of the escape, where is Joyce 'Tilly' Mitchell now?
Warning: spoilers ahead
Mitchell pleaded guilty to promoting prison contraband and facilitating criminal behavior in September of 2015. She's currently behind bars with a sentence of up to seven years in prison for her assistance in the escape, with the possibility of parole. Instead of serving time in the very place the crime took place, Mitchell has been placed in Bedford Hills Correctional Facility — a maximum security prison in Westchester, New York.
In February of 2017, Mitchell was denied parole due to being "incompatible with the welfare of society," according to People. The plea deal struck was meant to keep the more serious charges off the table — such as sexual assault for having sexual interactions with both inmates and conspiracy to murder as the three planned to murder Mitchell's husband, Lyle. To this, she cooperated and her sentence was reduced from major time. However an additional year was added to her sentence for facilitating criminal activity — making the total sentence up by two years — according to NBC News. "You allowed your common sense and supervisory duties to be compromised by developing unprofessional relationships with Matt and Sweat," the board said in a statement obtained by People. "You present yourself more as a victim than a responsible participant and appear to be emotionally unstable and easily manipulated."
The manhunt that fascinated the country came crashing down on June 26, 2015 — 20 days after the initial escape from tunnels below their prison cells — when authorities found Matt and fatally shot him. Two days later, Sweat was found and arrested. He pled guilty and received an additional 14 years in prison (He'd already been sentenced to life without parole). If you're struggling to remember exactly where Mitchell came in, she's the one who smuggled escape tools to the inmates, and, though she opted out, was supposed to be their getaway driver and knew they'd planned to kill her husband. That is, in part, why she claims to have decided not to pick them up. She also had the help of a guard, Gene Palmer, who may or may not have known the tools had been secretly hidden in items passed onto the inmates.
In an interview with The Today Show in 2015, Mitchell explained that depression was the reason she'd become part of the escape. "I was going through depression and I guess they saw my weakness, and that's how it all started." Then, the sexual relationship began where Mitchell confessed she'd gotten "caught up in the fantasy" in regards to the escape itself. "I enjoyed the attention, the feeling both of them gave me and the thought of a different life," she said.
For the time being, Mitchell spends her time behind bars. Only time will tell if the courts will ever grant her parole, or if she'll serve the entirety of her time. Considering the severity of what happened, and what could have happened, prison is likely the best place for her to be.
This first-time mom wants to have a home birth, but is she ready? Watch how a doula supports a military mom who's determined to have a home birth in Episode One of Romper's Doula Diaries, Season Two, below. Visit Bustle Digital Group's YouTube page for the next three episodes, launching Mondays in December.