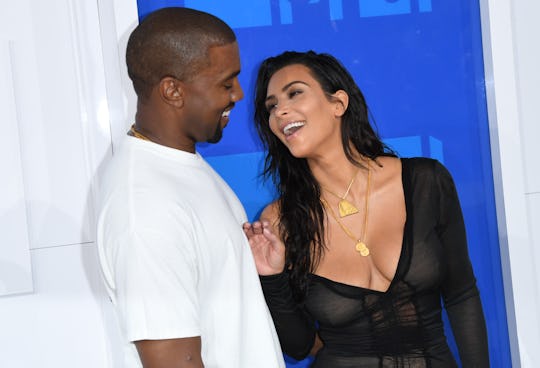 ANGELA WEISS/AFP/Getty Images
Where Is Kanye West Living? He & Kim Are Reportedly Living Apart Temporarily
Earlier last week, rapper Kanye West was hospitalized in Los Angeles, according to People, for "undisclosed mental health issues." This came on the heels of West cancelling multiple concerts. He is now out of the hospital but still receiving care. But now that he is reportedly out of the hospital — where is Kanye West living? According to People, West and wife Kim Kardashian are reportedly living apart.
Here is a brief timeline of what happened, since West isn't exactly on everyone's news radar. West was first hospitalized just a few days before Thanksgiving on Nov. 21, right after he had cancelled his tours, according to E! News. The rapper was admitted to the hospital in Los Angeles on the basis of different rumors — according to E! News, sources said he was "exhausted" and hospitalized for "his own health and safety." Just nine days after being hospitalized, West was then released on Thursday. But according to People, West is not at home with wife Kim Kardashian and their two little kids, 3-year-old North and Saint, who is almost a year old. Instead of being at home, West is reportedly living apart from his family while receiving outpatient care and "continuing treatment for undisclosed medical issues."
Representatives for Kardashian did not respond to Romper's request for comment.
But this new report of Wests's location conflicts other recent reports of his whereabouts since leaving the hospital. TMZ reported on Wednesday that West was at home with Kardashian and their kids, and is currently being left under the care of his wife and his physician. West's reported return home was a celebrated occasion, according to E! News — Kardashian's family threw "a small party" at home for West's return and to celebrate Saint's upcoming birthday. On Friday, it looked like all was well in the West household, as TMZ reported that a Christmas tree and multiple cases of water had been delivered to the home shared by the couple.
But because the reports are conflicting, the question does still stand — is West temporarily living away from home or is he living there? To be quite honest, it shouldn't matter. What is important is that West is receiving treatment for his health issues and that he gets all the help he needs. Meanwhile, Kardashian will continue to stay by West's side, according to E! News. "Kim is by his side now and will stand there til everything gets better," an insider told E! "Their time together was just about support. Everything will be ok. He has a good set of doctors and the main thing is he wants to get through this."
No matter where West resides as he recovers, he is hopefully getting great treatment and the attention he deserves — so that way he is in great condition to be with his family for the holidays.