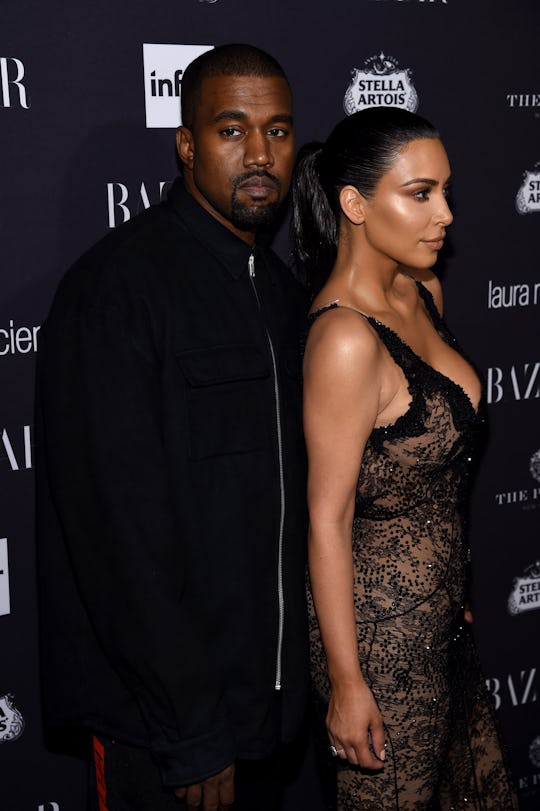 Dimitrios Kambouris/Getty Images Entertainment/Getty Images
Where Is Kanye West, Now That He's Been Released From The Hospital? He's With Family
According to E! News, rapper Kanye West was released from the hospital on Wednesday, where he was admitted just over a week ago for exhaustion and sleep deprivation. Last Monday, after unexpectedly canceling all of the remaining tour dates on his Saint Pablo tour, West was taken to the UCLA Medical Center for some much-needed rest and recovery. Now, it appears he's back on the mend — but exactly where is Kanye West, now that he's been released from the hospital?
According to TMZ, West is back at home with his wife, Kim Kardashian, and their two children, North and Saint. The family currently lives in their renovated mansion in Bel Air, although they also frequently spend time at Kardashian's mother's house. West reportedly left the hospital on Wednesday accompanied by his personal doctor, Dr. Michael Farzam, and Kardashian, according to TMZ, and he'll continue to receive treatment for a while longer.
West's hospitalization came two days after the Saint Pablo star's latest concert in California, where he played only three songs before launching into a 17-minute speech that touched on President-elect Donald Trump, Beyoncé, Jay Z, and Mark Zuckerberg. "I'm not always going to say things the perfect way, the right way," he told fans, according to The New York Times. "But I'm going to say how I feel. Get ready to have a field day, press. Get ready, get ready. Because the show's over."
He ended the night by dropping the microphone. The day after, his remaining tour dates were cancelled, and two days after that, he was admitted to the UCLA Medical Center.
During West's hospitalization, an inside source reportedly told E! News that West had overworked himself and needed to take a break. "Kanye is the kind of person if he gets released and isn't mentally ready he will go back to his old ways and push himself over the limit again," the source said. "He needs to keep up with counseling even though he has an intense work schedule. He is just really drained and still weak. He isn't himself."
Kardashian's half-sister, Kendall Jenner, reportedly told ET that Kardashian was doing well amid West's hospitalization and recovery. The Kardashian family skipped out on attending Jenner's Victoria Secret fashion show in order to remain in California.
It's good to hear that West will be continuing to receive the help he needs, and it seems like he's surrounded by an excellent support system. Hopefully he'll be given the privacy and space he needs as he recovers.