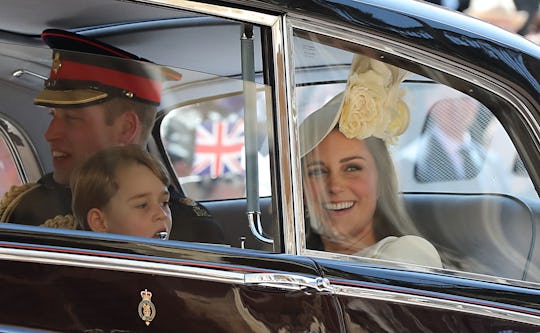 WPA Pool/Getty Images Entertainment/Getty Images
Um, Where Is Kate Middleton? The Royal Wedding Is About To Start
With all the arrivals complete at the wedding, and the bride making her way to the chapel, people are asking, where is Kate Middleton? Because people on Twitter are seriously concerned.
There is a fervor happening right now as the royals arrive to St. George's Chapel in Windsor. Everyone has arrived for the most part but the Duchess of Cambridge, Kate Middleton. People are worried and also understanding. Having had a baby mere weeks ago, it's understandable if she shows up a bit late, or perhaps not at all. Maybe she'll appear with the bridal party cadre of tiny royals and the godchildren of Prince Harry and Meghan Markle.
As I write this article, Kate has arrived taking care of her son and daughter as they serve in the bridal party. She was cheerfully guiding her two children into the chapel, all smiles in a cream colored skirt suit and matching hat.
It's not uncommon for the parents or aunts of the bridal parties in the U.K. to arrive with their children; in fact, it's a long held tradition of the royals. Think about it, no one can handle their children and keep them more calm than their mother or father. In this case, all of the mothers of the children guided them up, hand in hand through the gorgeous floral entry.
That doesn't mean that people were ready for her absence. As the precession of people continued into the church, the tweets became more and more furious. Some of the funnier threads I saw included "I hope she's eating scones in her pajamas," and "She's really busy healing her undercarriage right now." Neither of which anyone could possibly blame her for.
I was invited to a slew of weddings in the weeks and months following my daughter's birth and I went to precisely none of them. I sent cards and money and sent them my regrets. I didn't exactly write "I'm sorry, but I'm leaking and moody and bloated and I cannot be bothered with your wedding right now," but I thought about it. One can only imagine that Kate Middleton's overwhelming sense of duty and poise pulled her out of bed this morning to attend the nuptials.
True, Kate Middleton has an entire staff at her disposal to help her get ready and help her with her children, but that doesn't make it any less difficult, so it's no wonder people were wondering "Where is Kate Middleton?" When she didn't appear until just before the bride.
She did eventually turn up with her children, Charlotte and George, ready to go into the church as a part of the bridal party. You might be wondering why the children were the walking members of the bridal party and not adult friends and family of the bride and groom. The tradition of having page boys and girls instead of adult bridal parties is primarily British and has led to some of the cutest moments in royal wedding history. It's almost exclusively a club of nieces, nephews, and godchildren; these cute cherubs serve as heralds of the bride while garnering untold numbers of "oohs" and "ahhs" from the chambers of the church.
As for the Duke and Duchess of Cambridge, they arrived separately, which may have fueled the Twitter mania and worries that Kate would be absent from the ceremony. Thankfully, we got to see her gorgeous look just before Meghan took the stage and continued to watch her reactions to the very modern wedding throughout the whole gorgeous affair. It's truly something to be remembered.