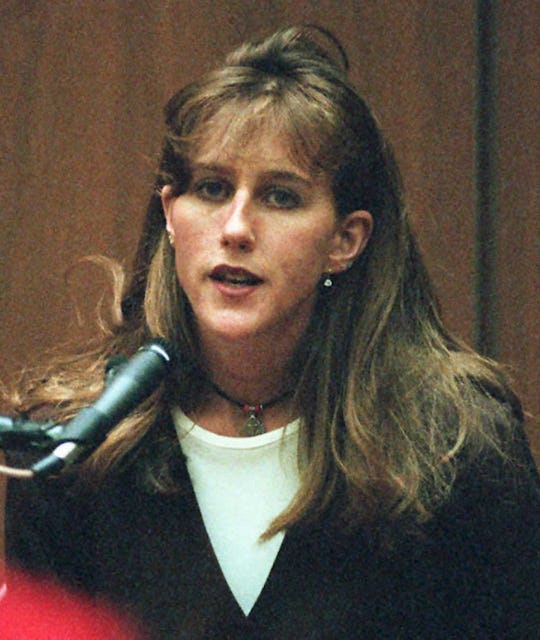 POOL/AFP/Getty Images
Where Is Kim Goldman Now? Ronald Goldman's Sister Has Struggled To Cope
With the finale of the FX network's dramatization of the O.J. Simpson trial, The People v. O.J. Simpson: American Crime Story, finally here after weeks of frenzy, it's important to remember the people depicted in the series are real — the pain the victims' families felt then is still very real. Kim Goldman, the sister of Ron Goldman, a waiter and aspiring model murdered with Nicole Simpson, has emerged in the decades since the trial as an outspoken advocate for crime victims. All these years after her brother's very high profile murder, where is Kim Goldman? She's still reeling from her brother's murder and Simpson's acquittal in many ways.
Today, Kim is a mother, writer, and speaker who works extensively in the non-profit sector both as the Executive Director of the Santa Clarita Valley Youth Project and founding Co-Chair of the Ron Goldman Foundation for Justice. The title of her memoir speaks volumes about her feelings on those horrible events starting with her brother's murder in 1994; it's called Can't Forgive.
On an appearance on Oprah's Where Are They Now?, Goldman talked about the hard time she's had coming to terms with her brother's brutal, senseless murder and the jury's acquittal of Simpson. And who could blame her? She deserves to be angry about losing her 25-year-old brother. And the popularity of The People v. O.J. Simpson is something Goldman equates to having "gallons of salt" poured in a wound.
Last fall, Goldman was on Meredith Viera where she came face-to-face with Simpson juror Yolanda Crawford, who said that today she's not sure of Simpson's innocence, but felt like she followed the judge's direction to acquit Simpson if there was reasonable doubt. Crawford also expressed sympathy for the Goldman family's loss and apologized to Goldman saying she was sorry she "couldn't give you what you were looking for."
Goldman characterized the meeting as "awkward and uncomfortable," according to Us Weekly. She also revealed that, at one point since Simpson was put in prison in 2008 for robbery and kidnapping, she considered going to Lovelock Correctional Center in Nevada to see Simpson. But she ultimately decided against a face-to-face meeting, because she was asked to sign a confidentiality agreement and deny the meeting ever took place.
"...I wasn't willing to do that," Goldman said. "It wasn't about words. ...It was about showing him that he didn't take everything from me. He took something really important, but he didn't break me."
Even though Goldman is obviously still deeply impacted by her brother's murder, she wants to assure everyone she doesn't walk around sad and angry all the time. She's a busy working mom with plenty of joy in her life.
"I think the misconception people have about me is that I am angry all the time, that I cry all day long, that I wake up and my day consists of how I can stick it to the killer," Goldman said during an interview for the OWN Network's Where Are They Now? "People, when they see me for a 10 second soundbite on television being upset about something, they assume that I am stuck in the same place I was 21 years ago."
Goldman is a person who suffered a tragic loss, but she has moved forward and accomplished impressive things in spite of the experience.