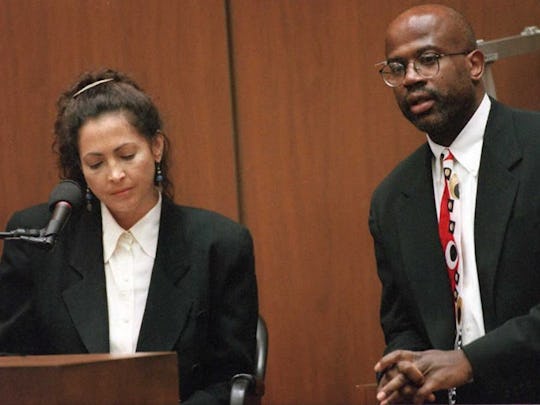 POOL/AFP/Getty Images
Where Is Laura Hart McKinney Now? She Was An Essential Party In The O.J. Simpson Case
On Tuesday's episode of American Crime Story, "Manna from Heaven," a crucial piece of evidence is introduced: a series of interview tapes of then-Los Angeles Detective Mark Fuhrman with screenwriter Laura Hart McKinney. The tapes record Fuhrman saying the n-word over forty times — when he said on the stand that he had not said the word in ten years. McKinney was someone completely uninvolved with the Simpson trial — she was a filmmaker and screenwriting professor. Where is Laura Hart McKinney now, over two decades later?
According to her testimony, McKinney interviewed Fuhrman as screenwriting research for a possible film about women in law enforcement. Despite Fuhrman's previous testimony that he had not used the n-word in the decade prior to the trial, McKinney's interviews completely contradicted this. Fuhrman spewed racist and sexist language; when charged with perjury, he pleaded no contest.
Bustle interviewed McKinney about her role in the trial and what she's been up to since. "The tapes were subpoenaed after the screenplay had been optioned, so really the whole circus of the exposure to the O.J. Simpson trial made it impossible to move that project forward in any reasonable fashion," she said. McKinney decided to abandon the screenplay idea in favor of a book. Unfortunately, when an editor she was working with passed away, she did not pursue the publication.
Years later, in 2014, McKinney discussed the book idea with her son. Her son told her, "Mom, you have to publish this ... This is a really good story and you have to publish it." She decided to listen to him, and her novel Men Against Women was released last year. The novel is about a female cop, which is tangential to the screenplay topic McKinney was researching when she interviewed Fuhrman.
"I recently published Men Against Women, which is the book from where the tapes came," McKinny told Bustle. "I had interviewed men and women officers to develop a story that reflected what was happening with men and women in policing in the mid-80s in the Los Angeles Police Department. It's those tapes — some of those tapes — that were subpoenaed."
McKinney is still a filmmaker and screenwriter – and now she can add published author to the list. As if that wasn't enough, she teaches screenwriting full-time at University of North Carolina School of the Arts' School of Filmmaking. While she lives a quieter life, her contribution to the Simpson case remains to have an impact.