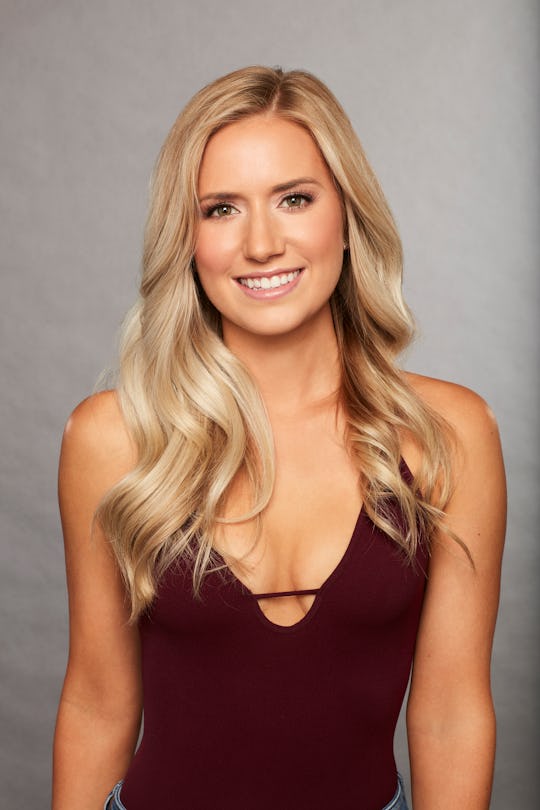 Craig Sjodin/ABC
Lauren B.'s Background Proves She May Be The Perfect Match For 'Bachelor' Arie
While everybody watching Season 22 of The Bachelor has been focused on favorites Becca, Bekah, and Tia, a blonde dark horse candidate has emerged: the last remaining Lauren. So obviously everybody wants to know more. Where is The Bachelor's Lauren B. from? This contestant is apparently used to warm climates, so she'd probably do well in Arie Luyendyk Jr.'s hometown of Scottsdale, Arizona. If she wins his heart and moves home with him, that is, of course. At this point it's still anyone's game (except maybe Krystal's).
The competition started with four women named Lauren competing for Arie's heart. Three of the Laurens were quickly eliminated, leaving just Lauren B. to try to win Arie's affection (and that Neil Lane engagement ring). But Lauren wasn't seen much on screen until Week 5, when she suddenly seemed to take up a lot of Arie's attention. Viewers got to see a little bit more about how well the two connected. In a one-on-one chat, Lauren challenged Arie to a game of 21 questions, where she started by asking him what his favorite color was, before quickly joking that she already knew it was blue. I think the two might actually be perfect for each other.
In her Bachelor bio on ABC, Lauren lists her hometown as Virginia Beach, Virginia, meaning Tia isn't the only southerner in competition for Arie's love. Her LinkedIn page states that she attended Central Washington University all the way at the other end of the country in Washington State, and then moved back to her home state of Virginia when she went to Old Dominion University. But she didn't stay at home forever. These days she works as a Tech Salesperson for Vonage in Dallas, Texas. So clearly Lauren is a sunny-weather type of person.
A quick perusal of Lauren's Instagram and Facebook pages show that she is a fun-loving and pretty normal person with lots of friends and a fluffy, adorable dog. Seriously, she looks like one of those women on Instagram who are always impossibly beautiful and going on impossibly beautiful vacations and hanging out with other impossibly beautiful people in their impossibly beautiful lives. I would be bitter and jealous if she didn't also seem impossibly sweet and nice. She also has a little brother who's still a tiny kid that she loves to post pictures with. It's all very adorable and pretty and lovable. Maybe she does capture Arie's heart in the end.
In interviews, Arie has said several times that he actually fell in love with two women on the show. "I fell in love with two women, and I didn't know I was capable of that," he told People. "I've never been in that situation, and it was really hard. And they were two very different women, and that's what made it even harder." Is it possible that one of these women was Lauren? To be perfectly honest, if I was one of these two women I don't think I would be totally cool with the fact that he also loved somebody else. But it does make for some very good drama on a TV show.
Pretty soon on the show, Arie and ABC will take the women outside of the U.S. for some transatlantic romance. I guess we'll all have to wait and see how the relationships develop overseas. And maybe we'll get to see Lauren's hometown of Virginia Beach if she ends up being one of the final four women. I can't say for sure, but I've got a pretty good feeling about her.
Check out Romper's new video series, Romper's Doula Diaries:
Watch full episodes of Romper's Doula Diaries on Facebook Watch.