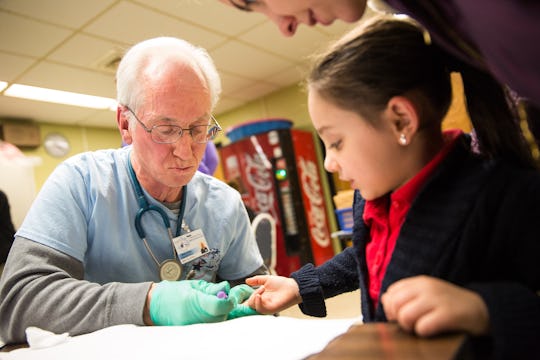 Brett Carlsen/Getty Images News/Getty Images
Lead Poisoning Is A Threat To Kids Across The US
It's probably not at all shocking to know that exposure to lead can cause major health problems, especially in children. And it might not even be shocking to know that, thanks to the water crisis in Flint, Michigan — where a cost-cutting measure switched the city's water supply from Lake Huron to the contaminated Flint River — as many as 5 percent of children screened in the year after the switch were found to have had high blood lead levels, according to Reuters. But what probably is surprising, is that, actually, Flint is far from being the city with the biggest lead risk. Where is lead poisoning a threat to kids in the U.S.? An eye-opening investigative report by Reuters found that "nearly 3,000 areas" across the country had "recently recorded lead poisoning rates at least double those in Flint." The worst part? Parents may not even realize that the danger their children are facing.
To be clear, lead wasn't the only problem with the water in the Flint River, but it certainly was an important one. According to CNN, although it was being accessed as a source for the city's drinking water, the Flint River water wasn't being treating with anti-corrosive agents. And when that water — which was found to be 19 times more corrosive than the water from Lake Huron — made its way through old, lead-lined pipes, the water began leaching lead into the water, putting residents at risk for the effects of lead poisoning.
But exposure to lead is a really big deal. According to the Centers for Disease Control, lead exposure "can seriously harm a child's health," and there is no level at which lead detected in blood is considered to be safe. Lead exposure can cause a variety of health complications in kids, including damage to the brain and nervous system, slowed development, learning and behavioral problems, and issues with hearing and speech. Yet despite the established risks, the CDC said that "millions of children are being exposed to lead in their homes" everyday.
If that sounds scary, it probably should. In its investigation, Reuters requested lead testing data from all 50 states, looking to analyze the results according to census tracts or zip codes. And what they found was staggering: 2,606 census tracts (each one representing a population of about 4,000 residents on average) and 278 zip code areas (each one with an average population of 7,500) had lead poisoning rates twice as high as those in Flint. So while the estimated national rate of children aged 6 and younger with elevated lead levels is about 2.5 percent — half that of Flint's — it's clear that, in many areas of the country, the situation is much, much more serious.
Where is lead poisoning a problem? To start, lead exposure tends to be a bigger issue in urban or industrial areas, and according to Mother Jones, cities like Baltimore, Maryland; Herculaneum, Missouri; Sebring, Ohio; and Washington, D.C., have been found to have extremely elevated lead levels. A Vox analysis that looked at lead rates by state found that New York and Chicago were home to almost one-quarter of census tracts with the highest reported lead risk scores, with Rhode Island, Ohio, and Pennsylvania also reporting a high percentage of census tracts with elevated lead risks.
Overall though, the reality seems to be that, well, lead exposure is pretty much an issue everywhere. In 2014, the highest rate of lead poisoning in the nation was found in Houston County, Alabama, according to Vox, with counties in Louisiana, West Virginia, Kentucky, Indiana, and Oklahoma also reporting a high number of positive lead testing results to the CDC that year. Certain populations seem to be disproportionately affected by lead exposure risk — a 2013 CDC study found that black children were more than twice as likely to have high blood lead levels than white children, according to Vox — and poverty also seems to be a contributing factor. But even then, living in an affluent area doesn't seem to insulate residents from the risk of lead poisoning, according to Reuters.
In San Marino, California, an area about 20 minutes from downtown Los Angeles, the average listing price for a home is almost $3 million, and zoning rules prohibit fast food chains from setting up shop — clearly a well-off, health-conscious area. Yet more than 17 percent of young children in San Marino have been found to have elevated levels of lead in their blood. In fact, between 2011 and 2015, more than 15,000 children under age 6 in Los Angeles County tested high for lead.
What's behind the nationwide lead risk? There are many factors. One common culprit is lead-based paint. In low-income areas it might be a result of older, worn homes, but the risk of lead exposure in home renovations or repairs affects those in wealthier neighborhoods, too. And, as in Flint, lead exposure is an issue in water systems across the country. According to a 2016 report by USA Today, an additional 2,000 water systems in the United States have shown excessive levels of lead contamination, putting an estimated 6 million people at risk.
Even more concerning is the fact that, according to USA Today, "many of the highest reported lead levels were found at schools and day cares." In Maine, a water sample taken from an elementary school was found to be "42 times higher" than the EPA's lead limit of 15 parts per billion. In Pennsylvania, a water sample from a preschool was found to be 14 times higher, and in Ithaca, New York, a water sample from an elementary school tested high enough to be considered "hazardous waste," according to EPA guidelines. The problem, most often, occurs in the pipes: even homes built as recently as 1986 can have interior plumbing containing lead, and in addition, as many as 7.3 million homes in the United States still connect to water mains through lead service pipes.
Worried about your children's possible lead exposure? According to CNN, you can check online for your water supplier's most recent report — they're searchable by zip code at the EPA's website. But the only way to know for sure whether lead is present in your home specifically is to test for it. This might be especially important if you are pregnant or have young children at home (fetuses and infants are most vulnerable to lead exposure), and it's also suggested that parents have their children's blood lead levels tested between the ages of 1 and 2 years old.
Other useful general tips? According to CNN, when it comes to lead, the temperature of your water matters. If you're worried about lead, run the taps on cold for at least five minutes before using them, and don't consume water that comes out of your taps warm or hot (the warmer the water, the higher the lead concentration) — especially when using tap water to make baby formula. Other areas of your home can also be tested to determine lead exposure, such as paint, household dust, and soil.
When it comes to being a parent, it can often feel like there is an endless list of things you need to be worried about. Unfortunately though, in the case of lead exposure, it seems that the seriousness of the risk is one that is often underestimated. While the threat of lead poisoning is scary, and the effects incredibly alarming, taking steps to reduce your risk, and that of your children, seems entirely worth it. Though your home and drinking water might seem safe, your lead risk isn't always easy to discern. And the complications for lead poisoning are alarming enough that parents shouldn't put off taking action.