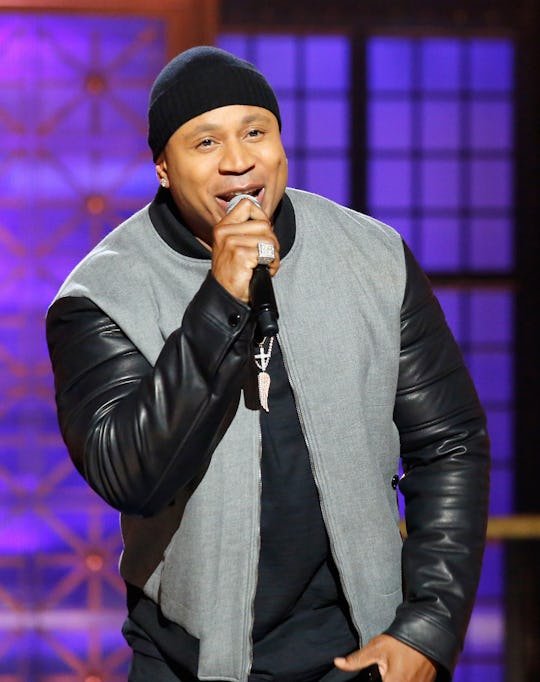 Handout/Getty Images Entertainment/Getty Images
Everyone's Wondering Why LL Cool J Is Missing
After hosting the award ceremony for the last five years in a row, fans tuning into 2017 Grammys may have noticed that LL Cool J was conspicuously missing from the evening's festivities. So where is LL Cool J? The Recording Academy reportedly decided to go in a different direction this year by handing hosting duties over to The Late Late Show host James Corden.
Corden isn't a surprising pick: he hosts a late night comedy show on the Grammys' home network, he runs one of late night's most popular bits in "Carpool Karaoke," starring music icons (and the occasional First Lady), and he can sing, dance, and play the part of charming host. He also feels like a somewhat fresher and more recognizable pick for younger audiences, which, unsurprisingly, the Recording Academy was going hard after. Conversely, LL Cool J has been starring on NCIS: Los Angeles since 2009. Not exactly the most accessible personality for the desired audience, in spite of his significant body of work as a recording artist.
CBS definitely made use of Corden's recognizability by putting him in a cardboard cutout "Carpool Karaoke" car and doing the Grammys version of Ellen DeGeneres' 2014 Oscar selfie moment. He pulled a bunch of nearby artists into his "car," including Jennifer Lopez, John Legend, Faith Hill, Tim McGraw, Keith Urban, and Neil Diamond for an impromptu "Sweet Caroline" sing-along, joking that he was "contractually obligated" by CBS to do it. Unfortunately, Corden committed the egregious faux pas of not knowing his audience. Several passengers in this particular carpool didn't seem to know the lyrics to the dad-rock classic. Luckily, Blue Ivy Carter was here to deliver us from awkwardness.
Recording Academy CEO Neil Portnow told The Wrap last November of their decision to replace LL Cool J with Corden:
"At the end of the day, what we expect and what everybody has to do ask this question, 'What is in the best interest of The Academy? So, when you use that lens, then you have to think about…changing things up."
For his part, LL was cool with it (sorry), telling Billboard:
"They wanted to do something different, and I actually felt totally comfortable with that. I had an amazing run on the Grammys. I'm good. I made some great friends, I have friends at the Academy, friends on the production team, the executives."
In the meantime, you can catch LL Cool J hosting Lip Sync Battle on Spike, which is honestly very similar.