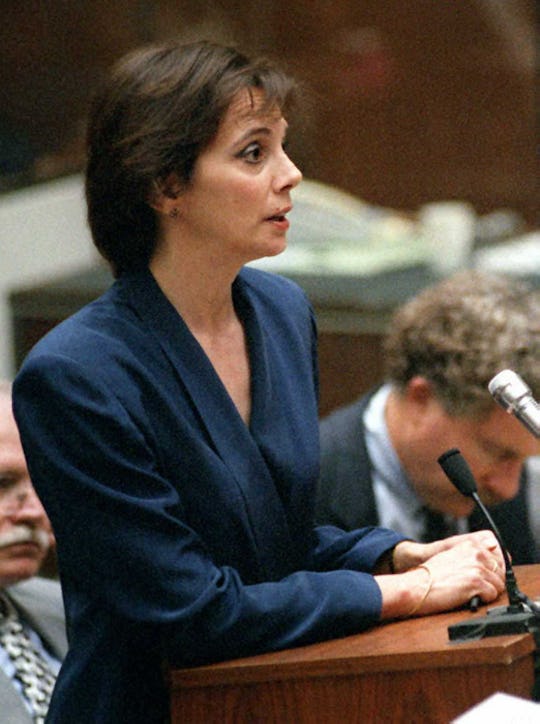 POOL/AFP/Getty Images
Where Is Marcia Clark's Son Travis Now? He's Very Accomplished
The popularity of the FX TV series The People v. O.J. Simpson: American Crime Story has resulted in curiosity about the real-life people portrayed by the characters on the show. After prosecutor Marcia Clark's son was briefly included in a recent episode, the obvious question is: Where is Marcia Clark's son Travis now?
Though Clark herself has remained in the public eye over the years, her two sons, Kyle and Travis, have been mostly off the radar. The little we've learned about them recently is from a People interview with Clark, during which she reveals that 23-year-old Travis is now working at a startup. Her older son, 26-year-old Kyle, is an economist. In American Crime Story, Clark is portrayed by actress Sarah Paulson, who has been widely lauded for the role, which Vanity Fair characterized as "the most fascinating" of the series.
The episode of Crime Story that airs this week, appropriately titled "Marcia, Marcia, Marcia," will focus on how Clark received undo scrutiny as the only woman on the team prosecuting former NFL star O.J. Simpson for the alleged murder of his ex-wife, Nicole Brown Simpson, and her friend, Ronald Goldman. (Simpson was acquitted of the charges.) As reported in Vanity Fair, Nina Jacobson, one of the producers of American Crime Story, said that the episode is "a portrait of a working woman struggling in a man's world that is as poignant as anything you will see."
In the episode, Clark gets a haircut because the media has been making fun of her perm. But it backfires, because the change to her 'do only draws more attention to her appearance. She also requests that a court session not run too late so she can get home to her children and is subsequently derided by Johnnie Cochran for the request.
These fictionalized portrayals mirror the real-world struggles that Clark faced during the O.J. trial. According to People, "Clark was viciously mocked in the press for her failed relationships, parenting style and appearance." Clark told People that, above all, she regrets how this type of gendered scrutiny affected the outcome of the trial itself. "I hated the way it impacted the case – the way it impacted the witnesses," she said.
Clark has moved on with her life, and today she's a successful novelist, having penned five crime thrillers. Still, in a recent interview with Hollywood Life, Clark admitted that she's still upset about the outcome of the Simpson trial, saying, "No one ​was brought to justice. And that will never — never — be OK with me."