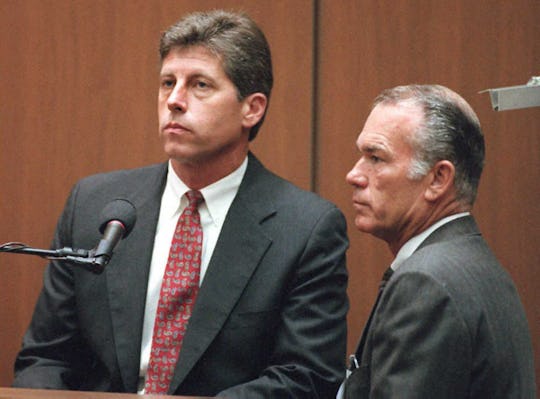 Pool/Getty Images
Where Is Mark Fuhrman Now? The Former Detective Has Been Busy
The People V. O.J. Simpson: American Crime Story has brought back a serious wave of mid-'90s nostalgia. At that time, the O.J. Simpson trial had completely taken over everyone's television sets, so it makes sense that viewers of the new FX series are starting to look back and ask questions about the characters involved — questions about Simpson's kids, the evidence presented in court, and the leaders of the original investigative team, specifically Detective Mark Fuhrman, who is portrayed in the series by actor Steven Pasquale. So where is Mark Furhman now? The former detective of the Los Angeles Police Department has been busier than you would think.
Fuhrman was in his early 40s and a detective with the LAPD when he was initially called to investigate the crime scene where Simpson's ex-wife Nicole Brown Simpson and her friend Ronald Goldman had been found murdered. When he arrived, Fuhrman found the two bodies, as well as the blood-stained glove that would become one of the most notorious and famous pieces of evidence to be presented in a court case, collecting evidence and logging it for investigators to use later on.
Fuhrman, whose small screen counterpart makes a few appearances on the FX show, also testified against Simpson at the famous 1995 Simpson trial. However, during his time on the stand, Simpson's defense pulled out a set of tapes one which were recordings of Fuhrman reportedly using racial slurs and remarks throughout. In total, the recordings added up to 13 full hours.
The tapes put Fuhrman on the spot and caused national commendation. In turn, Attorney General Dan Lungren filed perjury charges against Fuhrman who then accepted a plea bargain. To this day, he remains the only who has been convicted of criminal charges related to the O.J. Simpson case. So where is Fuhrman these days?
In 1997, Fuhrman published Murder in Brentwood, a book about the investigation of the murders, which became a New York Times best-selling novel in the non-fiction category. Following the release of the book, Fuhrman also went on to author six other books, including his most recent release about the assassination of John F. Kennedy. Another one of Fuhrman's books, Murder in Greenwich, became a made for TV movie that debuted on the USA Network in 2002.
In 2010, Fuhrman went on The Oprah Winfrey show, stating that his biggest regret was answering the phone to investigate the murders in the first place. "I would have rather gone into work and asked 'Where is everybody?" he told Winfrey. When asked if he felt fulfilled in his life, Fuhrman answered "no" and said that he still missed being a detective.
Fuhrman also once had his own radio show in Spokane, Washington called "The Mark Fuhrman Show" but nowadays, Fuhrman occasionally contributes to Fox News as a forensic and crime commentator. But whether or not Fuhrman is watching FX's The People v. O.J. Simpson: American Crime Story remains a mystery.