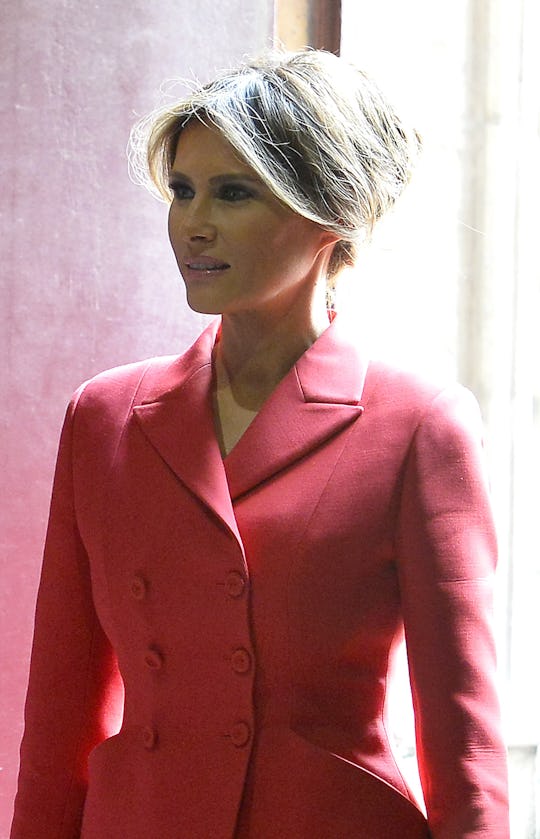 Aurelien Meunier/Getty Images Entertainment/Getty Images
Melania Trump's First Solo Trip Abroad Has Finally Been Announced
First lady Melania Trump has stopped off in a few foreign countries with President Trump, but she has yet to go globetrotting on her own. That is all about to change. So where is Melania Trump's first solo trip abroad? The White House announced that she will be heading to Toronto, Ontario sans-Trump in late September for the Invictus Games.
Prince Harry started these annual games in 2014 as a form of camaraderie for wounded service members from countries around the world. According to the Games' website, the participating servicemen and women come together to compete in various adaptive sporting events with a goal to "use the power of sport to inspire recovery, support rehabilitation, and generate a wider understanding of and respect for those who serve their country, and their loved ones."
With her participation, Mrs. Trump is following in the footsteps of former first lady Michelle Obama, who helped Prince Harry kick off the 2016 Games in Orlando, Florida last year. The current first lady recently released a statement praising the games, saying,
I was heartened by the great success of the inaugural Invictus Games that took place in London in 2015, and the second games in Orlando, Florida, last year. I am honored by the opportunity to represent our country at this year's games.
Prince Harry announced in May of this year that Toronto would host the 2017 Invictus Games. Over 550 athletes from 17 allied countries will come together from Sept. 23 to 30 to participate in 12 different sporting events. An expected 1500 volunteers will also participate in the games. When explaining his decision to hold the 2017 Games in Toronto, Prince Harry also touched on the impact that the event has on those participating:
I always hoped the Invictus story would continue after the London Games. And having seen so many new people benefit from their journey to Orlando this year, I definitely did not want it to end here. So today, I am absolutely delighted to announce that the Invictus Games legacy will continue when Toronto hosts the third Invictus Games.
While in Canada, Mrs. Trump is also likely to run into Canadian Prime Minister Justin Trudeau, who previously met with President Trump at the White House back in February.
Given the tense relationship the president shares with the United States' northern neighbors, it will be interesting to see how the first lady handles her own solo trip out of country — but whatever happens, it's sure to be an exciting adventure.