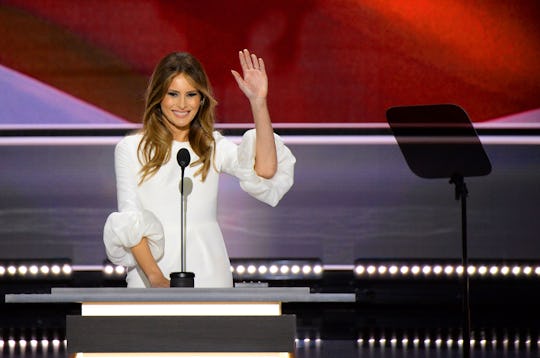 ROBYN BECK/AFP/Getty Images
Where Is Melania's Website? It Mysteriously Vanished, Along With Her Biography
After plagiarizing a portion of her speech to the Republican National Convention from Michelle Obama, new questions are being raised about how truthful Melania Trump has been about her life story. Her personal website, MelaniaTrump.com used to exist. And it claimed she graduated from the University of Slovenia with a degree in architecture. Now that there are doubts being raised that's true, the entire Melania website has mysteriously vanished. Where it Melania's website? It's been re-directed to the Trump real estate site.
It seems Melania and Team Trump might be having a hard time keeping their stories straight.
Melania's biography on her website claimed she had earned a degree from the University of Slovenia, but a book about her life, published just this year, said she dropped out after her first year of school, the Huffington Post reported. After pressing the Trump campaign for an explanation about the discrepancy, a "campaign spokeswoman declined to confirm or deny whether Trump had earned the degree," according to the Huffington Post.
Now if you go to MelaniaTrump.com it re-directs you to the Trump real estate site. But not too long ago it contained a Biography section, captured by The Huffington Post that read:
Born on April 26, 1970 in Slovenia, Melania Knauss began her modeling career at the age of sixteen. At the age of eighteen, she signed with a modeling agency in Milan. After obtaining a degree in design and architecture at University in Slovenia, Melania was jetting between photo shoots in Paris and Milan, finally settling in New York in 1996.
The same Melania Trump biography appears on the GOP convention's website. In fact, the RNC's biography for Melania seems to have also been copy and pasted for re-use at the convention. Here's a screen capture of the biography as it appears on the RNC convention lineup page from last week.
But the book, Melania Trump: The Inside Story, written without her authorization tells a completely different story about Melania's education. The book was written by Slovenia journalists Bojan Pozar and Igor Omerza who revealed Melania dropped out after her first year and that, "Melania would have made it to her sophomore year, even having failed two exams, but she was supposed to have gotten and held a 1-month internship and kept a journal about it," the book reads, according to the Huffington Post.
The authors say the fake degree, "...was almost certainly done in consultation with Trump and his advisors, as they were desperate to give off the impression that the Slovenian model was not just beautiful, but also smart and well-educated," the Huffington Post reported.
According to a detailed article on Melania's past for GQ by Julia Ioffe, "Melania decamped to Milan after her first year of college, effectively dropping out."
It might take a little more than scrubbing a website to make this go away.