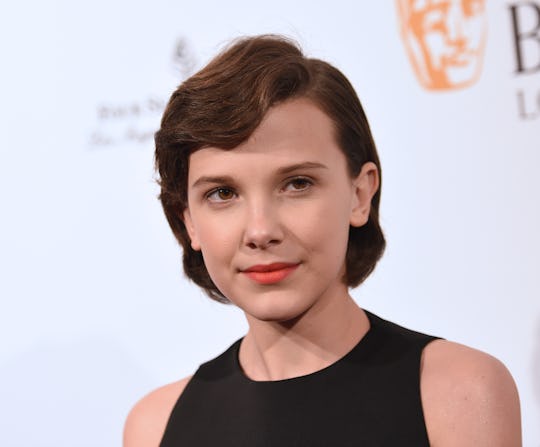 CHRIS DELMAS/AFP/Getty Images
Millie Bobby Brown Is MIA At The Golden Globes
On Sunday, Hollywood kicked off its 2017 awards season with the 74th annual Golden Globe Awards in Beverly Hills, California. Fans were super pumped to see the boys of Stranger Things hit the red carpet — but the show's big star, Millie Bobby Brown, was MIA for their entrance. Where is Mille Bobby Brown at the Golden Globes? There's no official word yet, but her presence was definitely missed on the red carpet. Brown did appear at the BAFTA Los Angeles Tea Party on Saturday, yet another staple of Golden Globes weekend — wearing a stunning black and white Kate Spade dress to boot. She even managed to snag a coveted and super stylish selfie with Ryan Gosling. But where was our darling Eleven at the first big red carpet event of the year? She arrived late to the event.
Brown also made an appearance at W Magazine's Best Performances Portfolio party on Thursday. She made quite the splash in an elegant vintage Hollywood-styled Kate Spade dress in all black with dainty sequined and beaded sleeves. Fans noticed Brown's absence when the rest of her crew arrived, and they were not happy. I mean, after all, she is the reason everyone like, is alive in Stranger Things.
But just when it seemed like the 12-year-old British actress wasn't going to appear at all, Brown arrived a little before 3:30 p.m. local time, in a dazzlingly gorgeous blush dress covered in glittery silver fringe.
Fans collectively breathed a sigh of relief once Brown arrived, now that the kids of Stranger Fiction have been fully accounted for on the red carpet.
There was no word on exactly what kept Brown from arriving at the same time as her Stranger Things co-stars. Maybe the budding fashionista wanted all of the red carpet glamour for herself? The boys of Stranger Things — Noah Schnapp, Finn Wolfhard, Caleb McLaughlin, and Gaten Matarazzo — arrived at the Golden Globes looking dapper as all get out.
Stranger Things took this summer's streaming TV shows by storm, a total breakout fantasy/sci-fi '80s-inspired hit from Netflix. Perhaps one of the most compelling aspects of the show is its young cast — but there was no Golden Globe love for any of the individual child actors. While Stranger Things was nominated for Best Television Drama Series at the Golden Globes, only actress Winona Ryder received an individual acting nomination for her role as panicked mama Joyce Byers.
Even if Millie Bobby Brown was totally snubbed at the Golden Globes this year, you wouldn't know it from her radiant red carpet entrance.