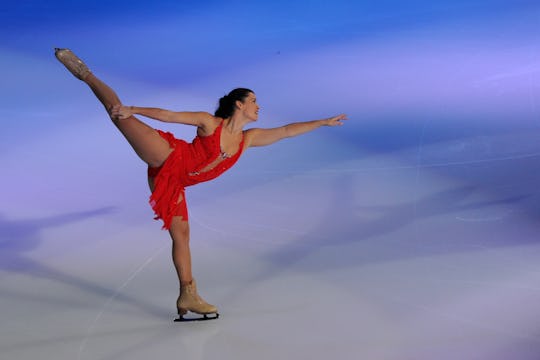 Maddie Meyer/Getty Images Sport/Getty Images
Nancy Kerrigan Is Now Embracing New Challenges In Life
The upcoming release of dark comedy I, Tonya may have audiences wondering about the real events that inspired the satire. The rivalry between figure skaters Nancy Kerrigan and Tonya Harding resulted in an attack on Kerrigan in 1994, carried out by a man named Shane Stant but arranged by Harding's ex-husband Jeff Gillooly and her bodyguard Shawn Eric Eckardt. It was a monumental scandal at the time, but Kerrigan was able to recover and return to her career. Catching up with where Nancy Kerrigan is now proves she's still doing just fine.
The attack, in which Kerrigan was hit in the knee by a baseball bat, occurred shortly before the 1994 Winter Olympics and was intended to sabotage Kerrigan so she couldn't compete. Though she only had weeks to recover from the injury if she still wanted to be a part of the U.S. team, Kerrigan managed it. Though it wasn't easy, she was dedicated to getting back to where she was before the attack. Kerrigan declared to People at the time, "I've been a fighter all my life."
Kerrigan went on to compete in the 1994 Olympics and earn a silver medal, her second Olympic honor after landing a bronze medal in 1992. She retired from competitive skating afterwards and in 2004 she was inducted into the Figure Skating Hall of Fame.
Retiring didn't mean Kerrigan gave up skating, however. She performed in various ice shows and on the reality TV show Skating with Celebrities. She was a special correspondent for Entertainment Tonight during the 2010 Olympics. Most recently, she appeared in Season 24 of Dancing with the Stars and made to the seventh week dancing with Artem Chigvintsev.
But according to an interview with People, Kerrigan's primary job is "being with my kids after school and asking them how their day was." She married her agent Jerry Solomon in 1995 and went on to have three children with him: Matthew, Brian, and Nicole. Her family is incredibly important to her, and she struggled for many years to conceive again after the birth of her eldest son Matthew, suffering six miscarriages before turning to IVF and conceiving her two youngest. Now her kids are following in her athletic footsteps, with Brian pursuing gymnastics and Nicole pursuing ballet.
Kerrigan is an executive producer on a documentary called Why Don't You Lose 5 Pounds that explores the pervasiveness of eating disorders among athletes. It's a topic that's important to Kerrigan because she witnessed it firsthand for many years and dealt with it herself following her attack in 1994. She was under an intense amount of stress at the time, caused by the attack itself but also the constant training to prepare for the Olympics. Dealing with all of that on top of the increased public attention made Kerrigan feel out of control.
"I would avoid food because it was something I could do," she said in another interview with People. "I felt like I could control that and nothing else. I don't know why but that seemed like an accomplishment." She went on to say, "I didn't realize what I was doing. I lost a whole bunch of weight before competing because I was working out for hours. It's a lot of work. Then realize, 'Oh, I ate a banana today.'" Kerrigan was eventually able to recover from her eating disorder, though she said she was never officially diagnosed.
Kerrigan has weathered serious hardships throughout her life, but seems to be doing well these days. She's focusing on spending time with her family, embracing new challenges, and devoting her energy to the issues that matter to her. The attack from twenty-three years ago impacted her life, but did not define it.
Check out Romper's new video series, Romper's Doula Diaries:
Watch full episodes of Romper's Doula Diaries on Facebook Watch.