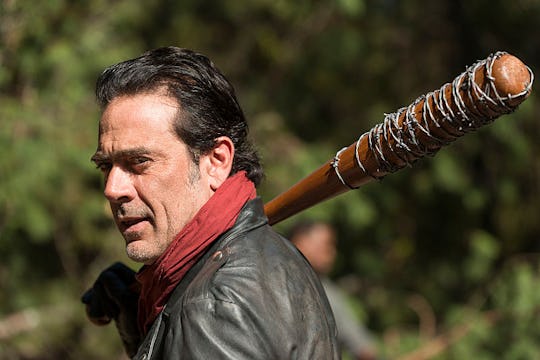 Courtesy of AMC
This Is What We Know About Negan's Story On Season 9 Of 'The Walking Dead'
It feels like a lifetime has passed since The Walking Dead's Season 8 ended in April, so if you're as big of a fan as I am you are probably pretty psyched that the Season 9 premiere is finally here. On Sunday, Oct. 7, Rick Grimes and the gang are back — but you might notice one very big character seems to be missing. If you're wondering where is Negan on The Walking Dead, you're in luck because I'm here to help answer the question. Well, as much as I can without totally spoiling the Season 9 experience for you, that is!
As you might remember, Rick (Andrew Lincoln) came face-to-face with Negan (Jeffrey Dean Morgan) in the Season 8 finale. Just when it seemed like Negan was going to win the duel by taking out Rick in front of everyone, the leader we've come to know and love (and occasionally not love) got Negan with a sneak attack. Not to be too gory here, but Rick sliced Negan's neck right open — leaving everyone to think he was dunzo for good. But nope! Rick let Negan suffer a bit, then had him saved. Yes, really.
That brings us to the present, with everyone wondering: where is Negan, now? Well, as the trailer for Season 9 has already showed us, he's definitely alive. In fact, he's so alive that Rick is paying him visits to chat. Or at least that's what appears to be happening in the trailer, right?
Interestingly enough, this is pretty on par with The Walking Dead comics, which the show is obviously based off of. In the comics, after the all-out war, Rick takes Negan as a prisoner and he is forced to live in a cell out of sight for a few years. The show has been pushing itself further and further away from the comics with big moments like Carl's death, but in this instance it seems they are sticking to the source material. For now.
Your next question is most likely the same one I had, which is when will we actually see Negan again on The Walking Dead? That's a good one. In the comics, Negan spends quite a few years in a prison cell underground before making a big comeback into the storyline, as reported by PopSugar. Given how big of a character Negan is on the television show, and how much a part of everything the actor behind him (Jeffrey Dean Morgan), has become, it's very unlikely we aren't going to see Negan again for years. He's a fan favorite — people are naming their babies after him! (No, seriously, see the above tweet.) Plus, he's already been teased in the Season 9 trailer, as previously mentioned, so a reunion with Negan feels a lot closer than it should be.
My best advice to anyone who is not-so-patiently waiting to see the villainous Negan back on their TV screen is to keep tuning in. He'll be back, because as most fans of The Walking Dead know, unless we actually see them die in an episode... they always come back.