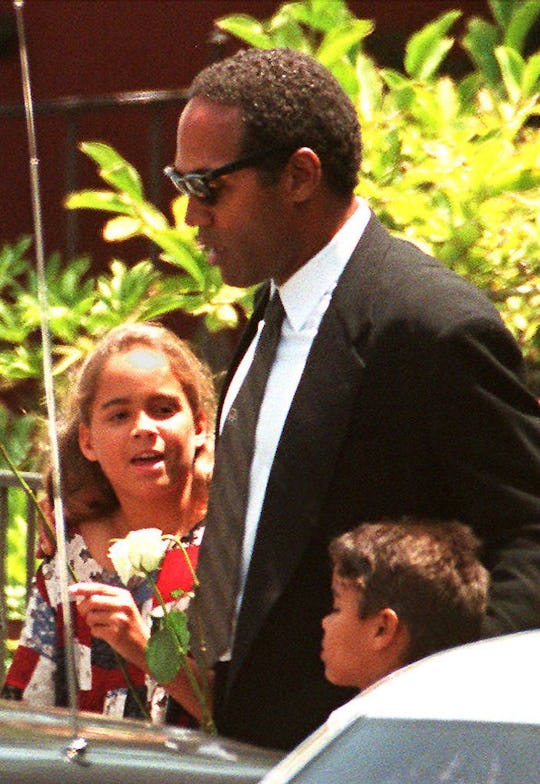 STF/AFP/Getty Images
Where Is O.J. Simpson & Nicole Brown's Son Justin Now? He's Leading A Very Private Life
American Crime Story captivated millions last week during its premiere. Not only was the show an entertaining hour of television — which is to be expected from executive producer Ryan Murphy (of American Horror Story and Scream Queens) — it also revitalized fascination with the Nicole Brown Simpson murder case. One aspect viewers may be curious about is where Simpson and Nicole's children, Sydney and Justin, are now, two decades after the trial.
Some facts revisited during this week's American Crime Story episode were instantly recognizable, like the fact that Kim Kardashian's father Robert Kardashian was a friend of Simpson's and involved with the case pretty heavily. Other details, however, may have been new to those unaware of the details surrounding the original trial.
The first episode revealed that Sydney and Justin had been asleep in the house when the murders took place.(Tanya Brown, Nicole's sister and Justin and Sydney's aunt, spoke to Radar Online in June 2014 about the children in the aftermath of the trial, saying that they had avoided the topic and ended up "making nice" with him regardless in subsequent years. As such, the public did not see much of the children during the initial trial, and it remained that way for some time. And despite the fact that Brown believed Simpson was guilty, she told Radar Online that she had raised the children like her sister would have wanted. (According to Brown, the children reportedly loved their father in spite of the allegations, and Brown had chosen to respect that.)
At the time of the trial, Sydney and Justin were eight and five-years-old, respectively. These days, Brown told Radar Online, the children are "professional", and have "gone to college", like most young adults. "They're in relationships," she said. "They're happy. They're just like us."
Justin himself is 27 years old. According to E! Online, he's living in St. Petersburg, Florida with his 30-year-old sister and is a real estate agent with Coldwell Banker Homes. Justin's passion his career is apparent on social media, where he has separate Facebook and Twitter accounts for his business. On the Coldwell Banker Homes website, Justin's bio reads:
Having a family immersed in hospitality, Justin sets himself apart by dominating customer service and his communication/negotiation skills give his clients the competitive edge!
According to Brown, Justin and Sydney are "well grounded" and she is "proud of what and who they've become."
Whether Sydney and Justin will watch American Crime Story is unclear — but considering how they have stayed out of the public eye in recent years (the most recent public picture of Justin is from 2014) it doesn't seem like they will.