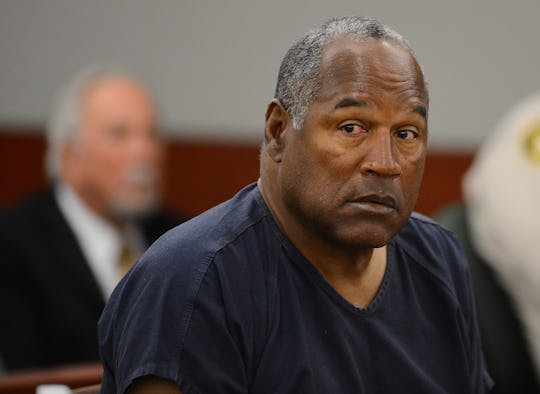 Ethan Miller/Getty Images
Where Is O.J. Simpson Now? The Former NFL Player Has Been In & Out Of The Spotlight For Years
In early February, The People v. O.J. Simpson: American Crime Story aired on FX, conjuring up plenty of memories about the prolific case. From the infamous white Ford Bronco car chase that was watched by millions, to the verdict which was viewed by even more — 150 million to be exact — the country was divided over the fate of the football player then and, thanks to the FX series, once more now. And though the case ended decades (yes, decades) ago, it's impossible to not wonder where O.J. Simpson is now.
Acquitted for the 1994 murders of his ex-wife, Nicole Brown Simpson, and her friend Ronald Goldman, the trial sparked a conversation about race and celebrity in the criminal justice system. Though Simpson was let off on criminal charges for their deaths, he was successfully sued by the Goldman and Simpson families in a wrongful death civil suit in 1997.
For a while after the trial, Simpson stayed out of the limelight. However, the Heisman Trophy winner fanned the flames in 2007, when reports emerged that he was penning a book about how he would have killed Nicole if he had actually done it, and he continued to grab headlines thereafter, for less than favorable reasons.
In December 2008, Simpson was convicted of armed robbery and kidnapping for his involvement in the robbery of two sports memorabilia dealers, and was subsequently sentenced to a maximum 33 years in a Nevada prison. "We are thrilled, and it's a bittersweet moment," Fred Goldman, Ronald Goldman's father, told reporters after Simpson's sentencing. "It was satisfying seeing him in shackles like he belongs."
Simpson's brush with fame has come at a cost. With his health reportedly failing, Simpson began looking into the appeals process, in order to gain his freedom and find care outside of the Nevada prison walls.
"I can only get mediocre health care in here, and it really pisses me off because I have the money to go to any specialist in the world to get knee surgery but they won't let me leave to get help," Simpson reportedly told a fellow inmate in March last year, according to The Daily Mail. "They don't give a damn that I am going to end up crippled and can't walk for the rest of my life."
In September of last year, Simpson's most recent appeal for his 2008 convictions was denied by the Nevada Supreme court. Though he won parole eligibility for some of his charges in 2013, the 68-year-old's lawyers — for the second time —unsuccessfully argued that he should receive a new trial altogether because his original attorneys botched the case due to conflicts of interest. For now, at least, it seems O.J. Simpson is staying put.