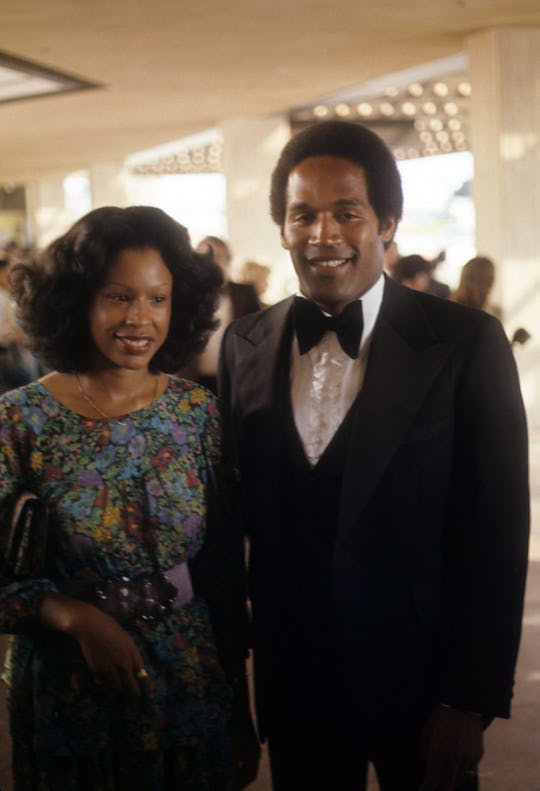 Frank Edwards/Getty Images Archive
Where Is OJ Simpson's First Wife, Marguerite, Now? She Seems To Have Disappeared
It happened more than 20 years ago, but many people remember "The Trial of the Century" like it was just yesterday. Now, the premiere of the FX miniseries American Crime Story: The People v. O.J. Simpson has renewed public interest in the murder trial of former professional football player O.J. Simpson, who, in 1994, was accused of murdering his ex-wife, Nicole Brown Simpson, and her friend Ronald Goldman. (Simpson was acquitted of the murders.) But casual observers may not be aware that Nicole was actually his second wife. So who was O.J.'s first wife, Marguerite, and where is she now?
Much of Simpson's back story was already known — his football career, his subsequent career as a color commentator, and even a bit of an acting career (he's best known for his appearances in The Naked Gun franchise). Also well-known are his ties to the Kardashian family. Robert Kardashian was a close friend and served on Simpson's defense team during the murder trial. But, surprisingly, little is known about Marguerite Whitley, especially in regard to her life after Simpson.
Simpson first met Whitley in high school, when she was dating his best friend, A.C. Cowlings, according to The New York Times. Yes, the same man who drove the infamous white Bronco during Simpson's low-speed chase with the Los Angeles Police Department before finally turning himself in. Although Cowlings was initially upset when Whitley and Simpson began dating, the three eventually reconciled.
Simpson and Whitley married in 1967, when he was 19 and she was 18. Their first child, a daughter named Arnelle, was born the following year, according to CNN. A son, Jason, followed in 1970. Simpson met Nicole Brown in 1977, when Brown was working as a waitress. Whitley was pregnant with the couple's third child, a daughter named Aaren, at that time. According to Syracuse.com, Simpson admitted that he was unfaithful to Whitley, and the two separated in 1978 and divorced in 1979. Aaren drowned in the family swimming pool that same year, just shy of her second birthday. Simpson married Brown in 1985, and went on to have two children with her (Sydney and Justin) before their divorce in 1992.
So what happened to Whitley after she divorced Simpson? The woman seems to be adept at flying under the radar. The Times dug deep in 1994, and discovered that, after a contentious divorce punctuated by financial disputes, Whitley went on to lead "a fairly quiet life." She reportedly married a transit supervisor named Rudolph Lewis in 1986, and they divorced in 1991. She then married a furniture salesman named Anthony Thomas in 1992. It's unclear if the two are still married, although they were still together in 1995, when they appeared on 20/20 together for an interview with Barbara Walters, according to The Seattle Times.
Following Simpson's trial, Whitley has done an impressive job staying out of the limelight. There have been occasional gossip items about her daughter Arnelle — the Daily Mail reported in 2012 that Simpson's eldest child is now the beneficiary of his $25,000-per-month NFL pension. Likewise, there have been occasional mentions in the media of Simpson's three other surviving children.
Update: New information contradicts Georgia Newsday's assertion that Jason, Sydney, and Justin may have worked in an Atlanta restaurant together. According to E! Online, Sydney and Justin are currently living in Florida.
But Whitley is a ghost. The only mention of her post-trial is a 2008 National Enquirer item (take that with a grain of salt) that alleged Arnelle lashed out at Simpson for not supporting Whitley, who Arnelle said was working at Walmart. Let's hope that she's doing well now, and congratulate her on staying far, far away from the circus of the trial.