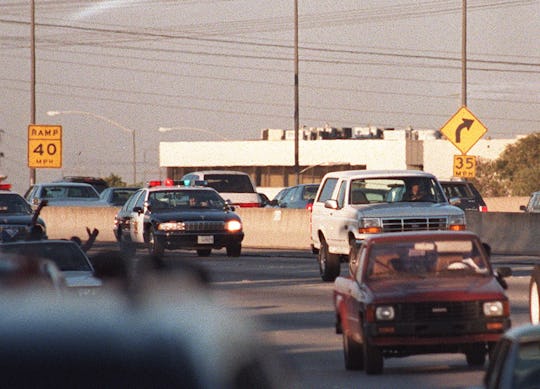 Mike Nelson/AFP/Getty Images
Where Is OJ Simpson's White Bronco Now? People Spent A Lot Of Time Tracking It Down
On the evening of June 17, 1994, the world stopped. OK, maybe not "the world" but many Americans did stop. Traffic stopped. Workers stopped. Bars fell silent, and many families abandoned their dinner plates, instead opting to sit in front of the TVs in their living rooms. It seemed as though, in an instant, life was put "on pause." Why? Because on that day everyone was watching the live, low-speed police chase of O.J. Simpson, Al Cowlings, and his white Ford Bronco. And while we know where Simpson is today, I want to know what happened to that car. Where is O.J. Simpson's white Ford Bronco now? It seems the Bronco's whereabouts are not as well known as one may assume.
Rumors have placed the vehicle in California and Florida. Vanity Fair reported in 2012 that the infamous white Ford Bronco could be rented for parties and private affairs. But perhaps the best theory comes from USA Today who tracked the Bronco's lifespan from its production up until 2014.
The two-door SUV rolled off the assembly line in March 1993 and passed an emissions inspection the following month, according to USA Today. On the evening of the chase, it caught the attention of a memorabilia collector named Michael Kronick:
I called my attorney and I said, 'We've got to have that truck. That's going to be the most famous truck.'
So Kronick has the truck, right? Right?!
Not quite. You see, when Kronick tried to acquire the Ford Bronco, he learned the truck actually belonged to Cowlings — Simpson's friend and the vehicle's driver during the chase. So, Kronick began searching for Cowlings, according to USA Today. After awhile, Kronick was able to locate Cowlings, and Cowlings put him in touch with Don Kreiss, a friend who he had entrusted with selling the car.
Confused yet? Don't worry, it gets better... or worse. (I'm not sure which.)
Kronick offered Kreiss (and, vicariously, Cowlings) $75,000 for the Bronco, but he also wanted 250 autographed photos of Cowlings driving the car. It seems Cowlings/Kreiss agreed and on the morning of Nov. 2, 1994, Kronick met Kriess to purchase the vehicle. But for unknown reasons, Cowlings changed his mind last minute and, according to USA Today, the deal was off.
Fast-forward to 1996: Kronick sued Cowlings for damages in excess of $200,000. (Ha!) The two reached an "undisclosed settlement," according to USA Today, and the car remained in Cowlings care. Or so it was believed until Cowlings' attorney, Stanley Stone, revealed the car had been sold for $200,000 — just two months after the Kronick/Cowlings settlement — to Michael Pulwer, another collector.
And, in theory, the car remained — and remains — in Pulwer's care to this day. Rumor has it that the Bronco sits in an underground garage in Los Angeles, or Miami (you know, somewhere in the United States), but those who work the security office outside Pulwer's high-rise condominium in South Beach told USA Today they have never seen the vehicle.
It seems the car's "official" whereabouts may never be known.