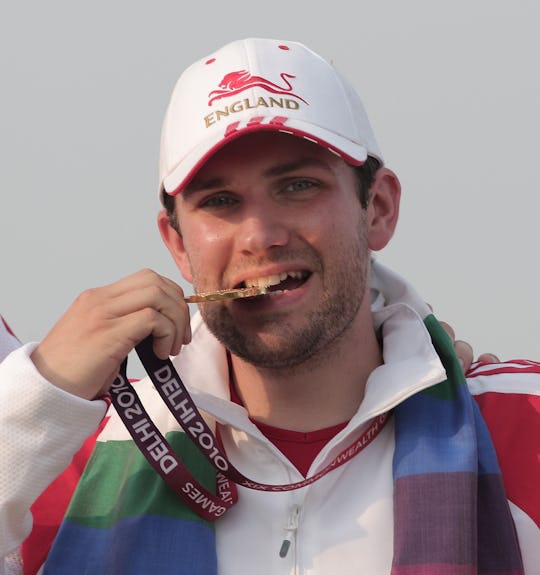 Adam Pretty/Getty Images Sport/Getty Images
Here's What We Know About The Origins Of 'OutDaughtered's Adam Busby
It's a new season of OutDaughtered on TLC and with it, come questions about the large and fun-filled family's background. We know Danielle and Adam met while working at Target because they've joked about it, but where is Adam Busby originally from?
After all, we know the family lives in the Houston area and had to deal with Hurricane Harvey, a plotline this season, according to TLC's website. The Busbys, parents of Blayke, 7, are also parents to the only all-female set of quintuplets in the United States, according to TLC: Ava, Olivia, Hazel, Parker and Riley, who turned three in April.
But as far as hometowns go, the surprising answer is: Adam is a native of Lake Charles, Louisiana — the same town where Danielle hails from. (As far as the reality stars have confirmed, however, they didn't meet until their early-adult years. Adam's LinkedIn profile shows him attending high school in the Dallas area, but maybe that was before returning to Louisiana, which he calls his birthplace on social media.)
According to Country Living magazine, Adam didn't seem to notice Danielle at first at the store. Finally, he did ask her out... only to cancel the same day. When Danielle did give Adam another chance, they ended up having their first dinner with his whole family. Normally, this shouldn't work, but Adam's devotion to his clan is actually what sealed the deal.
"I started to fall in love with [Adam] when I realized how much joy he had for kids, just like I did," Danielle told the magazine. After two-and-a-half years of dating, he proposed on Christmas Eve, Country Living added.
Now that they have a thriving family, things are on the upswing this season. The quints are in school and big sis Blayke is growing up fast, as Adam writes on the family's blog. Adam also told USA Today's "All the Moms" section that, with the little Busbys getting bigger and asserting their own personalities, it's important to him and Danielle to try to find one-on-one moments with their kids solo.
"That's something that really, we're still trying to figure out," he explained. "And I think that's something we're always going to struggle with.... and it's something we deeply care about.
For her part, Danielle told USA Today that the couple also works to find a "date night" to keep their bond solid. "We found that we need to be out of the house to catch up and not get distracted," she said. "We enjoy each other and love each other and want to hang out together, it's just we have to plan it."
Part of the fun of watching the Busbys in action is just seeing what it takes to take a family that size out and about... even an easy-sounding trip to the bookstore can be involved when you have a large brood.
Say what you will about the chaos they deal with on a daily basis, the Busbys are super-entrepreneurial as far as making their financial lives work with a big family. The couple became partners in a fitness studio, as they documented on Instagram. In addition to running their blog, Adam is an Account Manager at a Houston firm dealing with safety equipment, according to his LinkedIn page.
Speaking of finances, if you ever want a laugh, find the OutDaughtered episode where Adam and Danielle meet with a financial planner, only to be told they will need $2 million to send the Busby kids to college. Wow.
I love watching this family... and I'm sure glad they grew up in the same hometown so all this could happen in the first place!
TLC's OutDaughtered is on Tuesdays at 8 p.m./7 p.m. Central time.