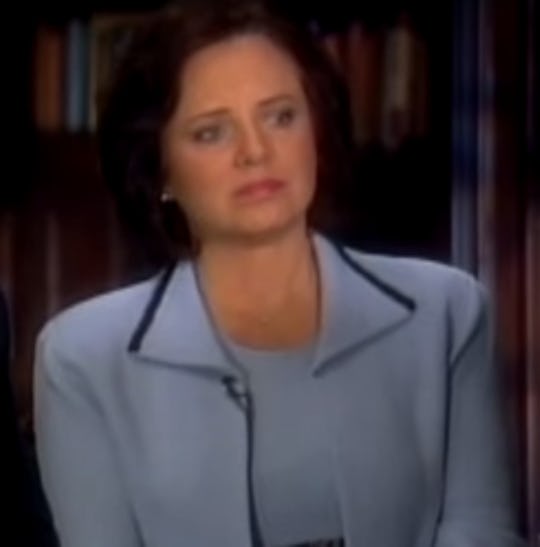 ABC News/YouTube
Where Is Patsy Ramsey Now? JonBenet's Mother Will Be Featured In CBS' Docu-Series
Following the murder of JonBenét Ramsey, the pageant star's parents were reluctantly thrust into the international spotlight. John Bennett Ramsey and Patsy Ramsey navigated a maze of media inquiry and legal investigation, maintaining their innocence and consistently repeating their desire to bring their daughter's killer to justice. Where is Patsy Ramsey now? She died in 2006, ABC News reported. But even after her death, she is a major figure in the case.
Two decades following JonBenét's death, the case is back in the news as CBS prepares to premiere a new series breaking down the details of the crime and investigation. The Case Of: JonBenét Ramsey is set to premiere Sunday, Sept. 18 at 8:30 p.m. Eastern Time on CBS, according to The Hollywood Reporter; it will continue on Monday, Sept. 19 at 9 p.m. Eastern Time and conclude Sunday, Sept. 25 at 8:30 p.m. Eastern Time. The series has already renewed interest in the case. Media coverage of JonBenét's murder waxed and waned over 20 years, but the Ramsey family never escaped attention.
Patsy called 911 on Dec. 26, 1996 at 5:52 a.m. Mountain Time, The New York Times reported. She said she'd found a ransom note indicating that her daughter had been kidnapped and was being held for ransom. The ransom note found in the Ramsey's house was signed "S.B.T.C." and attributed to "a small foreign faction," according to CNN.
In an interview with JonBenét's parents conducted by CNN correspondent Brian Cabell just days after the murder, Patsy said that she was the first one to go downstairs that morning in preparation to "go visiting" after the Christmas holiday. John said that later that day, he and a friend were searching the house at the request of the authorities when they found JonBenét's body in the basement. The parents confirmed to Cabell that they'd given hair, blood, and handwriting samples to investigators, but they both said that they did not have any role in JonBenét's death. Romper reached out to John's and to Patsy's representation but did not hear back at the time of publication.
John and Patsy moved from Boulder, Colorado, to a suburb of Atlanta, Georgia, in 1997, The New York Times reported. As the investigation progressed, global speculation about who killed their daughter allowed many homespun explanations to emerge. John and Patsy wrote a book called The Death of Innocence released in 2000; according to CNN, JonBenét's parents disputed theories that suggested either one of them was involved in the crime, instead claiming that scrutiny of the two of them jeopardized the progress of the entire investigation. In January 2013, The Boulder Daily Camera revealed that John and Patsy were indicted "on charges of child abuse" by the grand jury in 1999, The New York Times reported. No criminal charges were filed. By 2008, DNA technology had advanced to the point that investigators were able to determine that blood on JonBenét's clothing linked to an individual who hadn't been identified. According to The New York Times, John and Patsy were formally "vindicated" in a letter sent by Boulder County district attorney Mary T. Lacy to John.
Unfortunately, Patsy did not live long enough to see her name cleared by DNA evidence. Patsy died of ovarian cancer at 49 years old. ABC News reported that she received her first cancer diagnosis over a decade earlier. Though Patsy never got to see anyone convicted in her daughter's murder, the investigation continues; and this fall, CBS aims to tell the story of her family in a way that may, perhaps, push the case forward by reigniting public interest.