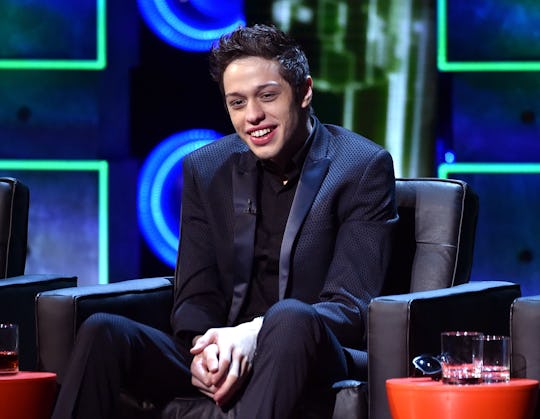 Kevin Winter/Getty Images Entertainment/Getty Images
Here's Where Pete Davidson Is From, & Why He Jokes About It So Often
Fans barely had time to process the rumors of Ariana Grande's new boyfriend before learning that the singer is now reportedly engaged to the young Saturday Night Live cast member, so it's time to get to know a little more about him, because if you follow Grande on social media, you can expect to be flooded with a lot more pics and fawning words about him going forward. We'll start with the basics, like where is Pete Davidson from? If you've seen his frequent appearances on SNL's "Weekend Update" segments (or even just heard him speak), you won't be surprised to learn that the rising star is a New York native, and proud of it.
Specifically, he's from Staten Island, a fact that he brings up often in his comedy, gently ribbing his fellow Islanders in a way that only a local can. But the borough is proud of their hometown hero, judging by the very thorough coverage of him on SI Live. He joined the cast of SNL in 2014 at the tender age of 20, the site reported, but he'd already been performing stand-up for four years by then. His first big break came at age 17, when he was discovered by none other than Nick Cannon.
In an interview with the local news outlet, Davidson said that growing up in Great Kills helped build the resilience he needed to make it in comedy:
It's one of those places where you have your few friends and everyone else doesn't like you. It helped me develop a thick skin, which helps in stand-up when jokes don't always go the way you want them to go or people don't laugh or they don't agree with everything you say.
And indeed, some people certainly don't like everything he says. Davidson's father, Scott, was a New York firefighter who was killed in the Sept. 11 terrorist attacks, and he often makes 9/11 jokes that hit a little too close to home for some.
In a late 2017 "Weekend Update" segment, Davidson had some harsh words for his hometown, which he shared with host and fellow Islander Colin Jost: "Staten Island isn't all heroin and racist cops," he joked. "It also has meth and racist firefighters." He also said he wouldn't mind if the borough "just fell into the sea," SI Live reported, which had locals torn between their love for their neighborhood and their neighbor.
"He is an embarrassment to himself, his family and his father," one internet commenter claimed, according to SI Live, while another wrote simply, "Garbage." But others were quick to jump to his defense, reminding others that Davidson is a comedian, and "If you don't think it's funny and has some level of truth, you didn't grow up on Staten Island." Besides, the only other celebrities out there representing Staten Island are a handful of Jersey Shore cast members, according to Slate, so maybe it's time to embrace their role as "New York City's most mocked borough."
Now for the lowdown on Davidson and Grande's whirlwind romance: It's unclear exactly when they got together, but it's definitely recent; the two were both in long-term relationships before they began dating, and they both announced the end of those last month, according to Vulture. They were first spotted together at an SNL after-party in mid-May, and were sporting matching finger tattoos just days later. On May 30, they went public with an Instagram post full of Harry Potter puns, Davidson got some more ink in Grande's honor, and just this past Monday, multiple sources have confirmed to Us Weekly that they're getting married. "They are looking forward to a very long engagement together," said one source, which is honestly the least believable thing about their relationship. I expect twins by the end of the year. (JK!)