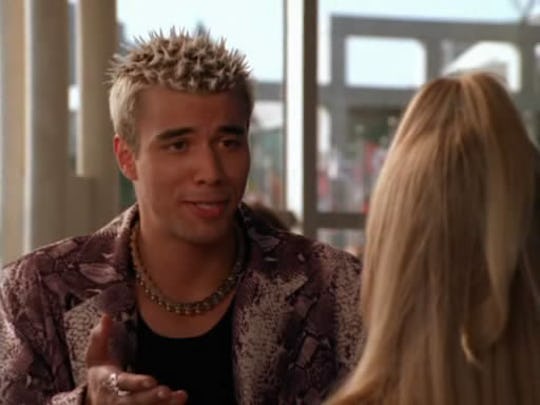 Disney Channel
Where Is Proto Zoa From 'Zenon: Girl Of The 21st Century' Now? Phillip Rhys Is A Star
Before there was Harry Styles or Justin Bieber, there was another pop star who had the world buzzing about his hair. No, not Justin Timberlake and the ramen 'do — Proto Zoa from Zenon: Girl of the 21st Century. As the pop star we never knew we needed, Proto Zoa proved that music is intergalactic and can span to infinity, and beyond — oops, wrong movie. And with that in mind — and the convenient Disney Channel Original Movie marathon occurring at the end of May into June — you may be wondering what the actor who played Proto Zoa in Zenon: Girl of the 21st Century is doing now. Well, Phillip Rhys is still acting, even if it's without spiked frosted tips.
1999 changed the nation for the better. A young Zenon Karr left the space station that she had grown up in for the first time, quite literally landing up on Earth. Her acclimation there was a true fish-out-of-water experience, but really this story isn't even about her and her best friend named Nebula, portrayed by the one and only Raven-Symoné. Zedis Lapedis, y'all, there was one important person in this story, and that was Proto Zoa, the semi-distracted pop star who just wanted to be the best version of himself.
And indeed he was. Did he let a little space-sized catastrophe get in the way of being the star he was? No. Is Margie in need of a major reality pill? Yes. But what has Phillip Rhys been doing since portraying the pop star we needed leading into Y2K? First, allow me to set the mood.
OK, now that the necessities are out of the way, let's get down to business, shall we?
Rhys has had a very successful career post-Proto Zoa. In fact, he's found himself multiple recurring roles that you may actually know him from. Zenon came out in 1999, but that was actually a pretty busy year for the actor. He also starred in the movie The Fear: Resurrection, Undressed as Jonathan, and Kill the Man. In 2002, he starred in the TV series Flatland as Quentin Mitchell. He was in 22 episodes of the series, which was a thriller about three Americans who became involved in a convergence of the past and present.
In the same year, Rhys began his 11 episode stint in 24 as Reza Naiyeer. Followed by a six episode stint on Nip/Tuck in 2003 until 2005, and an episode of NCIS, Bones, Survivors, The Space Between, Glee, Life in Color, Doctor Who, and Tripped.
He has also had his hand in some directing spots, like The Scarecrow, a 2015 short starring Darren Pettie and Sandra Oh, which presented at Tribeca Film Festival. So, go Proto Zoa, erm, Phillip Rhys for being out of this world!