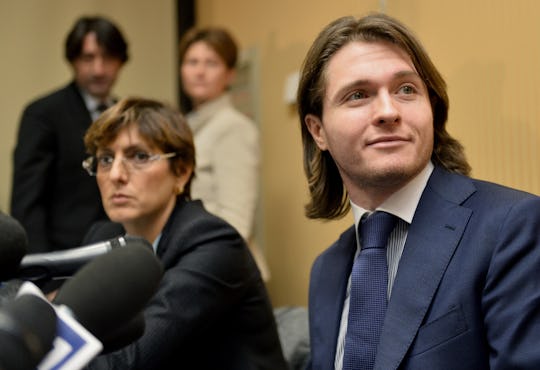 TIZIANA FABI/AFP/Getty Images
Where Is Raffaele Sollecito Now? Amanda Knox's Ex-Boyfriend Has Switched To Solving Cases
Following the recent spate of true crime series covering infamous murder cases, Netflix is set to release a new documentary on the Amanda Knox trial, titled, simply, Amanda Knox. The doc focuses on fallout from the the 2007 murder of British exchange student Meredith Kercher in Perugia, Italy, and the incomprehensible legal battle that her American roommate, Amanda Knox, and Knox's then-boyfriend of a week, Raffaele Sollecito, faced as the prime suspects. They spent almost four years in prison after multiple convictions, acquittals, and overturned rulings. But, where is Raffaele Sollecito now?
The 32-year-old Italian native has held a series of bizarre jobs since finally being acquitted of all charges in 2015 by Italy's highest court, according to The Guardian. He published a book in 2013 called Honor Bound: My Journey to Hell and Back with Amanda Knox, and that was before the Italian court system even made its final attempt to retry the case. In February of 2016, Sollecito tried to launch an app called Memories that he pitched as "a social network for graves." He described the app to English-language Italian newspaper The Local, saying:
"People can create a profile page for their deceased loved ones, where they can post photos, videos and share their memories. Each profile is also hooked up to an e-commerce portal where friends and family can order graveside services."
Asked if he thought the idea was "morbid," Sollecito said no, calling the app "innovative" instead: "There's no other service like this at the moment. I think it's a really sweet idea and a good way to remember the dead."
After receiving a €66,000 grant from the region of Puglia to launch the app last spring, however, Sollecito switched gears and took a TV hosting gig in April of 2016 on 24-hour Italian cable channel Tgcom24. He's contributing as a "guest expert" on a show about unsolved crimes, as NBC reports, "channeling his experience at the center of a murder case for the sake of solving Italian mysteries."
"I have been a victim of a miscarriage of justice, I know the faults of the justice system, what happens in jail and what happens when the media twists the truth," he told Britain's The Times.
It's true that one of the reasons the Amanda Knox trial was such a world-wide media sensation is, in part, due to Italy's legal system, which doesn't allow for the American concept of "double jeopardy." If a defendant is acquitted of a crime in Italy, a higher court can choose to retry the case, which is what happened to Knox and Sollecito. You can watch him lend his expertise on his own court proceedings on Sept. 30th, when Amanda Knox premieres on Netflix.