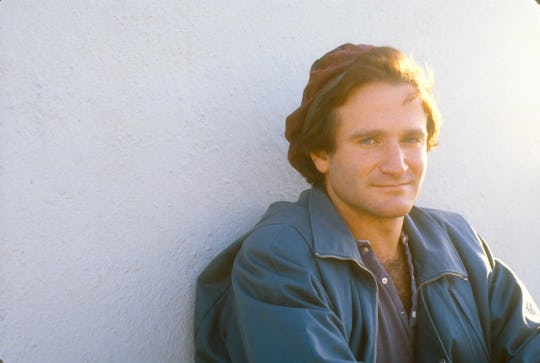 Sonya Sones/HBO
Robin Williams' Past Is Explored In The New HBO Documentary
Fans were devastated when comedic legend Robin Williams died of suicide on August 11, 2014. The star was only 63 at the time of his passing. Now, nearing the fourth anniversary of his death, HBO is releasing a documentary about Williams' life titled Robin Williams: Come Inside My Mind. Though Williams spent his life making millions of people laugh all around the world, there was obviously a lot about the actor that most of his fans did not know. For instance, fans may be interested to learn where Williams was from.
Williams was born in Chicago, Illinois on July 21, 1951. Williams lived in Chicago until he was 12 years old and then his family moved to Detroit, Michigan. The family then moved to Tiburon, California (north of San Francisco) after Williams father retired; Williams was 16. Williams stayed in California until he moved to New York to attend Juilliard in 1973. He was in the same class as actors Kelsey Grammer, Diane Venora, and Christopher Reeves. Though Williams didn't graduate from the school, he got an honorary Doctor of Fine Arts Degree in 1991 and later established a scholarship at the school that has provided financial assistance to a student each year.
Williams got his start doing stand up, but his skills at acting quickly allowed him to move from the stage to the screen. While Williams may be best known for making people laugh in films like Mrs. Doubtfire and Flubber, he was also well known for his roles in dramas like Good Will Hunting, The Dead Poets Society, Good Morning, Vietnam, and The Fisher King. He received Oscar nominations for all four of those drama roles and won the award for his role as Sean in Good Will Hunting in 1998.
Before a lot of his work on the big screen, Williams also starred in the hit sci-fi series, Mork & Mindy, alongside Pam Dawber. The show went on for four seasons and got Williams his first Emmy nomination. Williams would later go on to win two Emmys for his work in Carol, Carl, Whoopi, and Robin and ABC Presents: A Royal Gala. In the days leading up to his passing, Williams made a return to the small screen in the CBS comedy, The Crazy Ones, which he starred in with Sarah Michelle Gellar, who played his daughter.
To say Williams had an extraordinary career would be an understatement. In the new documentary, Williams' peers, like Billy Crystal and Steve Martin, will discuss what it was like to work with Williams, and how different he was on and off screen. The documentary will also include interviews with Williams family, including his children, as well as old interviews and clips of Williams work.
Already the documentary has received rave reviews from critics for the way it uses audio interviews with Williams and outtakes from his works to show Williams' process. CNN puts it best, stating, "Tinged with nostalgia and emotion, Robin Williams: Come Inside My Mind conveys the messy complexities of the man, while serving as an unabashed celebration of his work." In sum, if you're a fan of Williams and/or his work, this is a documentary you cannot miss.
You can watch Robin Williams: Come Inside My Mind when it airs on HBO on Monday, July 16 at 8 p.m. EST. It will also be available on the HBO Go and HBO Now apps.