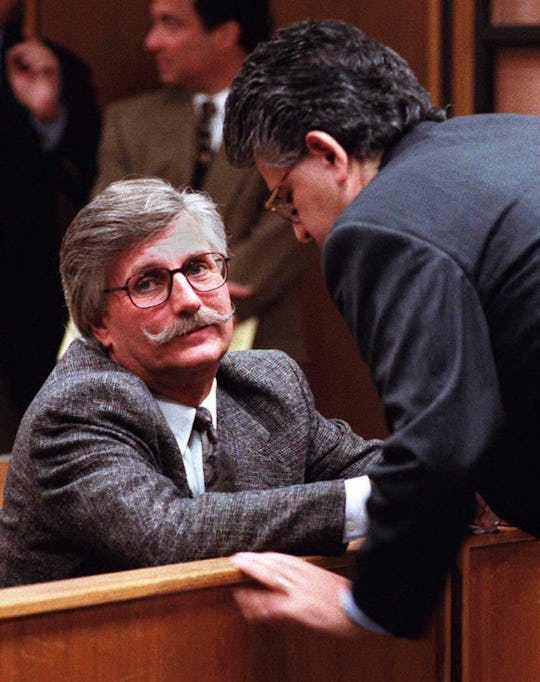 NICK UT/AFP/Getty Images
Where Is Ron Goldman's Father Now? His Loss Is Still Fresh
The murders of Nicole Brown Simpson and Ron Goldman had a lasting impact on the greater culture because of the landmark case that the crimes resulted in, but it would be remiss to ignore the much greater emotional impact on the victims' families – the people left behind after their loved ones were ripped from them, and who have yet to see anyone jailed for committing the crime. Ron Goldman's father, Fred Goldman, has been a particularly vocal advocate for his late son, both during the trial and now that the FX series The People vs. O.J. Simpson: American Crime Story has brought everything back into the public eye. After looking through that window into his past, one can only ask: where is Ron Goldman's father now?
Though two decades have passed, Fred Goldman is just as dedicated to the memory of his son now as he was then. It seems like Fred and his daughter Kim, Ron's sister, have never been able to fully recover from their shock and grief – understandable in a situation where they have never been able to achieve closure. This didn't prevent either of them from living their lives; rather, it galvanized them to both be outspoken about the rights of victims and make sure Ron was never forgotten.
Ron Goldman was killed when he reportedly went to return a pair of glasses to Nicole Brown-Simpson after her mother left them at the restaurant where he worked as a waiter. Evidence points to Ron having tried to help Brown-Simpson, and Fred Goldman remains proud that his son acted heroically in his final moments, even if it resulted in his death. Fred recently told People, "He could have run. He didn't. I'd like to say I wish he did but that would not have been Ron and I think he attempted to help and it cost him his life."
Though the criminal trial did not result in the justice that the families of the victims sought, they didn't let that stop them from pursuing it. In 1997, the Goldmans and Brown Simpson's estate filed a civil trial against O.J. Simpson, where he was found to be liable in the deaths of Ron and Nicole. Though the families were granted a hefty payout to the tune of 33.5 million, they never received it, instead getting around $250k after the auction of Simpson's Heisman trophy.
Fred and Kim Goldman have gone on to speak publicly about the rights of victims, with Kim going into counseling and publishing several books with an eye towards the families of victims of violent crimes. Fred practiced real estate in Arizona. Though he continued to live his life in the wake of his traumatic loss, those wounds never really healed. In an interview with Today, he said, "It's like yesterday. The loss is exactly the same. Nothing has changed."