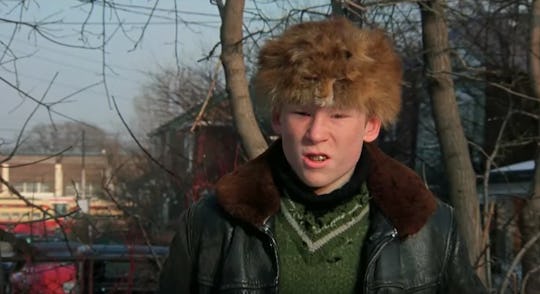 MGM
Scut Farkus From 'A Christmas Story' Looks Back On His Villainous Beginnings
The main focus of the 1983 holiday classic A Christmas Story may center mostly around Ralphie Parker, but who could forget his childhood nemesis, Scut Farkus? The name itself sounds like it was pulled right out of a villain's comic book origin story. But whatever happened to the boy behind that coonskin cap? Where is Scut Farkus from A Christmas Story now? The character was played by Zack Ward, who (I'm glad to say) is unlike is on-screen counterpart in every way. But while some child stars end up deciding to leave the entertainment industry, Ward has remained a successful actor to this day. In fact, you've undoubtedly seen him in various projects, even if you didn't put it together where you originally knew him from.
Not only has the actor appeared in many beloved TV shows, such as It's Always Sunny in Philadelphia, Charmed, and LOST, but he's also been busy with some behind-the-scenes work as well. During a recent phone interview with Romper, Ward revealed some of his upcoming projects and what he's been working on these past few years. "I've produced about three feature films: Don't Blink, Restoration, and Bethany, and directed one, which was Restoration.," Ward explains. "I"m writing a series right now called Fraxtur. It's a young adult sci-fi, Mad Max-type world and we're going into production on that in the beginning of 2018."
However, his interests don't just lie in the realms of entertainment. Ward also has a flair for business. "The big thing that I'm working on right now is called AllSportsMarket," which Ward describes as "the world's first stock market of sports teams." So instead of betting on a particular team, you can buy actual shares that'll go up and down in value. Suffice to say, I think Scut Farkus would be impressed.
But regardless of how far he's come from his childhood days of playing the big bad bully, Ward has a deep appreciation for the film that helped to launch his career. In fact, the movie is so widely renowned that it's been chosen as FOX's next live musical telecast, A Christmas Story Live!, which airs on Sunday, Dec. 17 at 7 p.m. EST. Ward admits he "very excited" about seeing the torch get passed down to a new generation of kids. "I love the fact that now it's become far more multi-cultural and that it's expanding its universe to be more inclusive," Ward states.
When asked to recall some of his most memorable times on set, Ward instantly harkens back to that iconic fight scene between Scut Farkus and Ralphie, admitting that while he wasn't actually getting punched in the face, he did manage to sustain an injury from this particular interaction:
Ralphie, Peter Billingsley, had springs attached to his mittens to make sure they didn't get lost and they had frozen solid. So he was smacking me with the mittens in the cheeks, so if you look closely you'll see my bright red cheeks, and those are actually coming from his gloves.
But don't worry — the friction we see on-screen between the boys is completely fictional. But since a picture speaks a thousand words, I'll let these behind-the-scenes photos that Ward and Yano Anaya (Grover Dill) shared with Romper speak for themselves. In the images, you can see Ward, Anaya, Billingsley, and a few of their fellow castmates having fun on set together.
I think we can all agree that's pretty adorable, made even better by the fact that, to this day, Ward remains very close with several members of the cast and thinks of them "like brothers."
Kinda makes you hope that Scut's little run-in with Ralphie helped him to see the error of his ways, so that art could imitate reality. For his part, Ward has a very specific idea of how he thinks life would've played out for his Christmas Story character:
I like to think that he would've grown out of [bullying] and maybe found better things he could do. I think he's become a football coach at the local high school and the geography teacher and he's helping kids transfer their aggression into more productive avenues. That's the dream, but who knows.
Dream or not, it certainly is a nice thought. Just as long as he never got rid of that coonskin cap.
Check out Romper's new video series, Romper's Doula Diaries:
Watch full episodes of Romper's Doula Diaries on Facebook Watch.