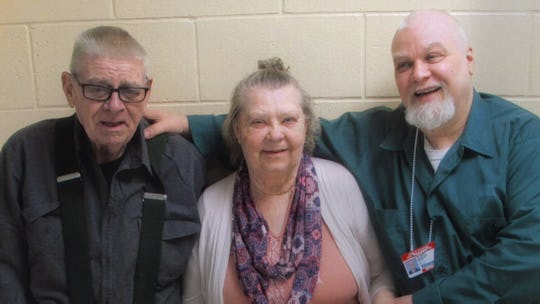 Netflix
Here's Where Steven Avery Is Now After 'Making A Murderer: Part 2'
Get ready for more sweeping drone shots of Manitowoc County, Wisconsin, because nearly three years after its first season took the internet by storm, Making a Murder: Part 2 drops on Netflix. Capitalizing on a moment of true crime frenzy in pop culture, Making a Murderer's first season took a baffling alleged wrongful conviction case and made armchair detectives of us all. So viewers may be wondering: where is Steven Avery now? He's currently serving a life sentence at Waupun Correctional Institution in Waupun, Wisconsin.
Series writer-directors Laura Ricciardi and Moira Demos shot the first season over the course of 10 years, which fleshed out a compelling narrative detailing the alleged wrongful conviction of Steven Avery and his nephew Brendan Dassey in the sexual assault and murder of Teresa Halbach. Part 2, covering the three years since the Wisconsin Supreme Court declined to review Avery and Dassey's cases, obviously has a lot less material to work with, but there's no question that audiences want to know what happened next.
Dassey's case attracted Laura Nirider and Steve Drizin, from Northwestern University's Center on Wrongful Convictions of Youth, who first appeared in the Season 1 finale trying to appeal his conviction. They failed, but continue to work in Part 2 to prove that Dassey's confession was coerced by the Manitowoc Country Police Department.
Avery, meanwhile, attracted Kathleen Zellner, a defense attorney specializing in wrongful convictions. In fact, she's helped to exonerate 17 clients, according to E!, more than any other private attorney in the United States. Her request for a retrial on the grounds that new forensic testing had become available since the case was first tried in 2007 was denied in October 2017. But Zellner is still focused on vacating Avery's conviction based on the new forensic tests available. She also argues that his legal team from that trial, Dean Strang and Jerry Buting, mishandled his defense.
Said Ricciardi and Demos in a statement, according to E!:
Steven and Brendan, their families and their legal and investigative teams have once again graciously granted us access, giving us a window into the complex web of American criminal justice. Building on Part 1, which documented the experience of the accused, in Part 2, we have chronicled the experience of the convicted and imprisoned, two men each serving life sentences for crimes they maintain they did not commit. We are thrilled to be able to share this new phase of the journey with viewers.
As for where the story goes from here, Ricciardi and Demos say that Making a Murderer: Part 2 did find a natural end point for its story arc. "There's been a resolution of at least one part of Brendan's case in the federal system at this point. He still has legal options available to him," said Ricciardi in an interview with Buzzfeed. "But Kathleen, we know, is still actively working Steven's case." So however Part 2 of this saga ends, the truth is that Avery's story isn't over yet.
Making a Murderer: Part 2 premieres on Netflix Friday, Oct. 19.