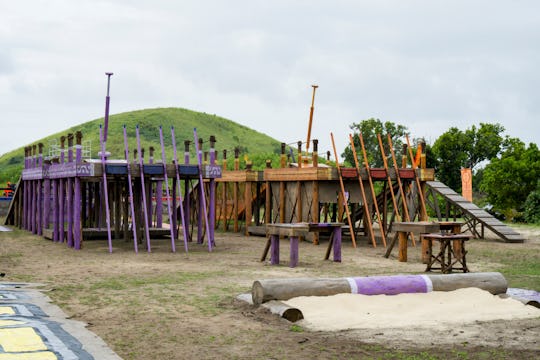 David M. Russell/CBS Entertainment
'Survivor' Season 37 Found The Perfect Setting
Survivor returns to CBS for Season 37 on Sept. 26 with a brand new theme that divides its teams based on their presumed advantages. One side will be comprised of "Davids," underdogs with surprising skills, while the other will be made up of "Goliaths" who have more obvious assets. But even though the motif of the season is different, the contestants will be battling it out on familiar stomping grounds. So where is Survivor Season 37 set?
Filming for the upcoming season took place on Fiji's Mamanuca Islands, where many past seasons have also been set. The show's art director Dax Pointon spoke to The Hollywood Reporter about the kind of aesthetic they were trying to capture this year for the Tribal Council, and how that worked within the island setting. David vs. Goliath is supposed to be more "gladiatorial" than years past, an idea that didn't necessarily mesh with the filming location at first. But Pointon figured it out.
"The first thing we thought of was some sort of battle arena, which doesn't really lend itself that well to tropical islands," he said. "The closest we could think of with civilizations as backdrops that would have this kind of context in a jungle was something like the Aztecs, or even several Polynesian cultures, like Maoris. Any sort of island warriors. That's where we sprung from."
The Mamanuca Islands didn't just determine the look of the sets, they had an effect on the way the game was played, too. According to executive producer and host Jeff Probst, the island weather provided one more challenge for the people competing. In the early days of filming for Season 37, they were overwhelmed with near-constant rain. Probst told The Hollywood Reporter that there were pros and cons to that, saying:
These storms are spectacular with their force. Even when the rain is coming down so hard you can't see, it is beautiful. It's a different kind of beauty, but it's part of what you want on Survivor: that torrential downpour, the cats-and-dogs rain that people talk about. We've had it in the past out here, and all signs point to the fact that we may have it again this season.
Probst is especially fond of Fiji. Survivor shifted locations throughout its first 32 seasons, but Season 37 will be the sixth to take place in Fiji — and it likely won't be the last, either. Before Season 36 aired, Probst was interviewed by Entertainment Weekly and announced, "I hope we stay here forever."
He went on to explain why Fiji was perfect for their purposes, referring to it as the show's home. Probst said:
Fiji offers us everything that we want. Incredibly beautiful water that you can see down 30 feet, beaches that are amazing, a government that is working with us, local labor that loves to say 'Bula!' every day because they're just happy you're here. And our crew has never been as happy. We actually have decent accommodations to do this show out in the jungle. It's a win-win-win.
Survivor will have new obstacles when it comes back for Season 37, but one thing remains consistent: the show won't be leaving Fiji anytime soon.