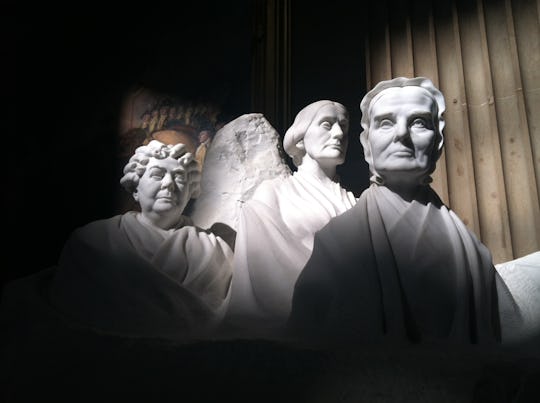 AFP/AFP/Getty Images
Where Is Susan B. Anthony's Grave? "I Voted" Stickers Cover The Suffragette's Headstone
On Nov. 8, a woman could quite possibly become the next and 45th President of the United States, as Americans continue to submit their ballots in this historic election. Adding to the already historic presidential race between Hillary Clinton and Donald Trump, many women have been traveling to where the nation's most well-known women's suffrage activist was laid to rest, in order to leave their "I Voted" stickers on Susan B. Anthony's headstone — and the inspiring act may have others looking to also pay tribute. So where is Susan B. Anthony's grave?
In 1906, Anthony died at home of heart failure and pneumonia, at the age of 86. She was buried at Mount Hope Cemetery in Rochester, New York, the same place where, in 1873, she was arrested and later found guilty of attempting to vote. Anthony didn't live to see the day that all of her years of activism and hard work would come to fruition; In 1920, 14 years after she died, the 19th Amendment was added to the Constitution, granting women the right to vote.
"There never will be complete equality until women themselves help to make laws and elect lawmakers," Anthony once said. And on Aug, 18 of 1920, a path to equality that she famously fought for was finally ratified.
According to CBS News, the cemetery where Anthony is buried will extend its hours on Election Day to give people more time on the historic day to pay homage and visit her grave.
Rochester Mayor Lovely Warren, who was elected Rochester's first woman mayor in 2014, told CBS News that visiting Anthony's headstone on Election Day has become a "rite of passage for many citizens" and the decision to keep the cemetery open later on Tuesday is "appropriate," as Clinton might become the first female president. Mount Hope Cemetery usually closes at 5:30 p.m., but on Tuesday night an entrance near Anthony's grave will be kept open until 9 p.m.
According to CNN, the "I Voted" stickers began to show up on Anthony's headstone sometime in October as many began to visit the grave to pay their respects, although the tradition is longstanding.
Anthony once famously said, "Oh, if I could but live another century and see the fruition of all the work for women! There is so much yet to be done." And while many could argue that there is still so much to be done for gender equality, without Anthony's fearless activism even the prospect of a woman becoming the next president might still be a very far away thought.
Nov. 8 could potentially be another historic day that the nation can look back on — and women placing their "I Voted" stickers on Anthony's headstone shows just how immensely inspiring her legacy continues to be, several decades later.