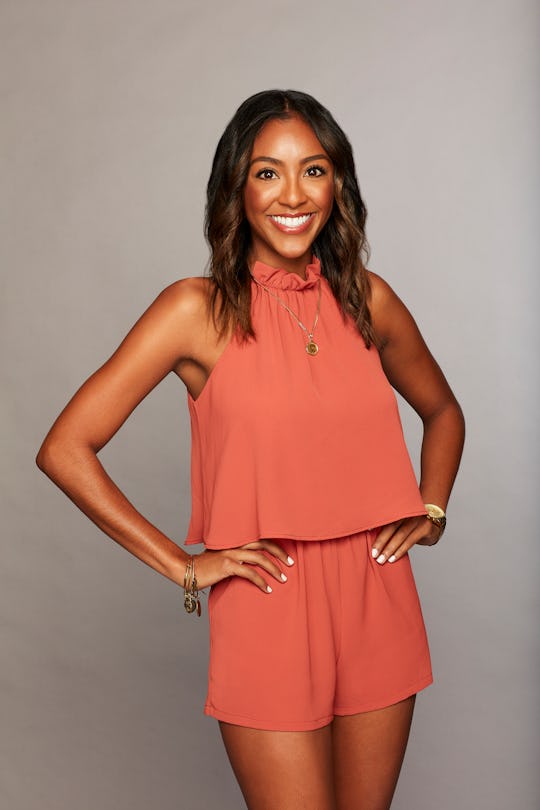 ABC/Craig Sjodin
Don't Worry — 'The Bachelor' Won't Be The Last You'll Hear Of Tayshia
If you missed the emotional tornado on the penultimate episode of The Bachelor, you also missed Colton's final date with one of three remaining women, Tayshia. Though their time together in Portugal appeared nice enough, the second half of the show focused on how much Colton loves Cassie — even hopping a fence after she decided to send herself home — which leaves Tayshia (and Hannah G.) in relationship limbo. If promos reveal anything, it's that Colton possibly abandons all to chase Cassie, leaving fans to wonder where Tayshia is now, if not engaged to Colton. Because if you're paying attention, the two had a *very* strong connection. So basically, what?
For the moment, and without giving away any major spoilers, it looks like Tayshia is watching The Bachelor along with the rest of the world, cringing with the rest of the world, and maybe even gasping at what unfolds (that she didn't know at the time) with the rest of us. The phlebotomist from Corona Del Mar challenged Colton in the most adventurous ways, proving she's up for anything. If you peep her Instagram page, you'll see mostly Bachelor-related content that hasn't updated since the whole Cassie-Colton-fence jump thing.
While Tayshia's been secretive and mysterious about her real life post-Bachelor — because talking about her life now would spoil the rest of the season — it's clear she and Colton had a strong connection from the start. Before the show, Us Weekly reported she was in a relationship right up until it was time to film The Bachelor. Considering the pair dated almost a year, there's reason to believe that relationship could heat up again if Colton doesn't offer her the final rose. However, because Tayshia's dad didn't give his approval or blessing in the beginning of the hometown visit, all of this might lean towards Tayshia taking a break to focus on making the most of life, single or not, while the season wraps up.
Meanwhile, as talk ramps up about who the next Bachelorette might be, Tayshia's on fans' short list for a few reasons. She's mature both in age (she's 28) and experience (having been married once before), she has an adventurous personality, and seems to be one of the few women who can hold the screen time without becoming formulaic. I can totally see her in the leading role, though with that very recent relationship past, it's hard to say if it would be a good idea or not.
As for right now, the girl loves to post. Like, a lot. But it looks like she's always having fun. It's hard to say how she'll handle the news of Colton's fence-jump, or of Colton's feelings for Cassie, but if the promo shows anything Tayshia, if eliminated, won't take the news well. Who can blame her? Anyway, she seems like the kind of person who will land on her feet regardless of how this turns out.
While it's still possible Tayshia gets the proposal and final rose in the finale, it's unlikely. Once Colton confessed his feelings for Cassie (and hopped over the fence to deal with her leaving him), declaring she was who he wanted at the end, I'm not sure Tayshia would want to be with him anyhow. No one wants to come in second. And whether she's announced as the next Bachelorette or not, something tells me this won't be the last you'll hear of Tayshia.