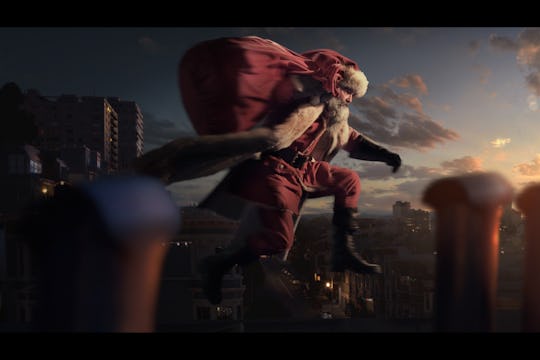 Michael Gibson/Netflix
'The Christmas Chronicles' Will Take You On An Adventure Through The Windy City
Netflix's new film, The Christmas Chronicles, combines the spirit of the season with the thrill and excitement of a magical adventure to make the perfect holiday movie this season. When two sneaky siblings inadvertently crash Santa's sleigh on Christmas Eve, they spend the whole night traipsing the city to help him get back on track. The film's backdrop is like a character itself, so fans are wondering, where is The Christmas Chronicles set?
The Christmas Chronicles is set in the magnificent city of Chicago, and comes from filmmaker Chris Columbus, who has used the windy city as a character in a number of his movies, including Home Alone, Adventures in Babysitting, and Christmas with the Kranks. Chicago's wintry landscape makes it the perfect backdrop for holiday movies, and in The Christmas Chronicles, the city's gritty charm adds to the excitement and adventure.
The film tells the story of two young siblings — Kate (Darby Camp) and Teddy (Judah Lewis) Pierce — who make a plan to capture Santa Claus (Kurt Russell) on camera on Christmas Eve. When Santa finally gets to their house, they secretly film him and then follow him onto his sleigh. They sneak into the backseat and continue to film, but when Santa and his reindeer discover the stowaways, they are startled, which causes the sleigh to crash. With the fate of Christmas at stake, Kate and Teddy vow to help Santa and his elves put things back together, and embark on a holiday adventure throughout the city.
Aside from the action, there's one aspect of The Christmas Chronicles that sets it apart from other holiday movies. Colombus and director Clay Kaytis didn't just choose an iconic city and adventurous storyline, they also found the perfect actor to play Santa. "No one is better suited than Kurt Russell to bring our version of a rugged, charismatic, and hilarious Santa Claus to life," Kaytis said in a statement following the film's trailer release, noting that Russell completely threw himself into the role and even grew his beard out for the part. "Kurt is the definitive Santa Claus. Charismatic, tough when needed with a wicked sense of humor," added Columbus. "We're really excited for audiences to see his performance onscreen and hope 'The Christmas Chronicles' becomes a timeless classic."
As a more modern, hip Saint Nick, Russell defies the stereotypical version of Santa Claus, and brings his own charm and style into the character. In an interview with Parade, Russell talked about his realistic portrayal of Santa in the film. "I'm not playing him as a jolly, old elf, he's a real person," said Russell. "He's not what we have made him out to be. Now, some of that's nice and he gets a kick out of some of that, but some of it he really doesn't. Here's a guy who knows whenever somebody sees him that they're going to be beyond skeptical and he's lived with it for a long, long time; for 1700 years."
With Russell's modern portrayal of Santa, combined with a magical adventure and the charm of Chicago, The Christmas Chronicles should be a treat to watch. As a Chicago native, I'm always excited to see my city on screen, and I love pointing out landmarks and streets that I know. And as a Chris Columbus superfan, I know that he utilizes the city like a character rather than a backdrop, so I can't wait to watch this holiday adventure unfold on screen.
The Christmas Chronicles is currently available to stream on Netflix.