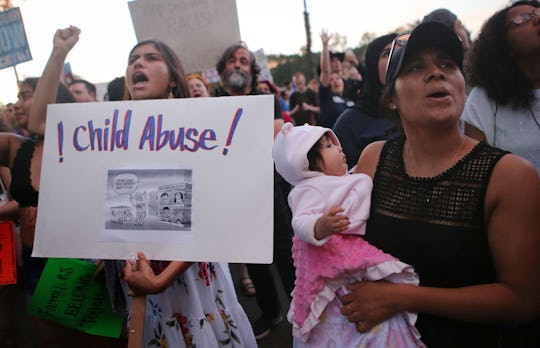 Mario Tama/Getty Images News/Getty Images
Here's Everything You Need To Know About The NYC Families Belong Together Rally
On Wednesday, a federal judge ordered the Trump administration to reunite immigrant families that were separated at the border within the next 30 days, according to Politico. But that doesn't mean that the previously scheduled "Families Belong Together" rallies are canceled. In fact, people are even more energized to protest, if social media is any indication. So, where is the "Families Belong Together" rally in New York City on June 30? As a multicultural city, the stakes are especially high for New Yorkers who know, work with, and are a part of families that have been directly affected by the administration's attack on immigrants, refugees, and asylum seekers. New Yorkers are definitely showing up this weekend.
There are over a hundred organizations sponsoring the "Families Belong Together" rallies all over the country on June 30, and there are even some international solidarity events planned, too. So, if you call New York City home but are escaping the summer heat elsewhere, you can still protest at another solidarity rally. But if you are still around, the New York City "Families Belong Together" rally will begin at 10 a.m. in Foley Square and head across the Brooklyn Bridge, ending in Cadman Plaza.
The details are still being finalized, but there are already permits for the march, so there will likely be an increased police presence for the peaceful protest. If you plan on attending, you should reply to the organizers' Facebook event page so that security and organizers know what kind of crowd to expect.
On the fact sheet distributed by organizers, all marches, including the New York City one, are family friendly, so you can definitely bring your kids. Organizers also ask that people wear white and bring a sign that sends a clear message to the Trump administration and any onlookers who might still be on the fence about what the rally is all about. The FAQs read:
The lead partners of this action are calling upon participants to wear white — as a striking visual symbol that will also connect attendees in solidarity to each other and channel historic social justice movements unified by one color of clothing.
Each march will be different, but should last about two hours, according to the organizers' fact sheet. As with every other event in New York City, the crowds are likely going to be overwhelming, so get there early, remember to hydrate, and have a plan with your friends and family to meet somewhere away from the march route if you somehow get separated between Foley Square and the end of Brooklyn Bridge.
The first "Families Belong Together" marches were held on June 19, after news broke of the terrible conditions separated families were subjected to thanks to the Trump administration's "zero-tolerance," according to Vogue. As of last week, the Department of Homeland Security, Customs and Border Protection, and the Department of Health and Human Services said that there were an estimated 2,000 children in their collective custody that had been separated from their parents, according to a fact sheet released on Saturday.
Advocates and journalists, along with legislators who visited the detention centers, reported that some parents had no information regarding their children's whereabouts after they were separated by CBP, despite claims from the administration that it had protocol in place to facilitate reunification, according to The Hill.
On Wednesday, Judge Dana M. Sabraw granted a preliminary injunction that ordered all separated children to be returned to their families within 30 days, and children under 5 years old within 14 days, as reported by The Washington Post. He also ordered that parents be able to speak to their children within 10 days on the phone. But that doesn't mean what the judge ordered is actually happening.
The order came on the same day that the House of Representatives voted down a Republican-drafted bill that would have funded a border wall, addressed the family separation policy in part, and also laid out a path to citizenship for young immigrants, according to TIME. Just before the vote, Trump tweeted, "SHOW THAT WE WANT STRONG BORDERS & SECURITY." But despite his support, the GOP's bill still didn't pass.
As Congress heads out on for its 10-day vacation for the July 4 holiday and Trump continues to fight for his border wall on Twitter, many immigrant families still don't know where their kids are. Which is exactly why people still plan on marching this weekend, because federal injunctions will only do so much.