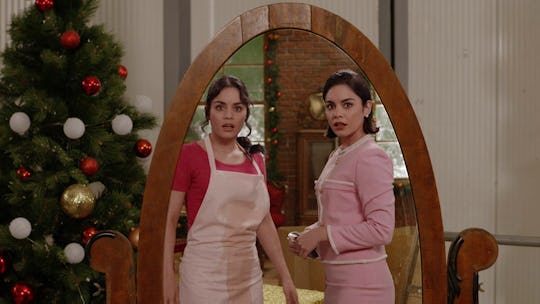 Netflix
Vanessa Hudgen's 'The Princess Switch' Is An International Holiday Affair
With Christmas just a month away, Netflix's new movie, The Princess Switch, is sure to get you in the holiday spirit. It tells the story of two identical women who are brought together by fate and decide to swap lives for two days. They live completely different lives, continents apart, in Europe and America, which might make you wonder, exactly where is The Princess Switch set?
In The Princess Switch, actress Vanessa Hudgens takes on the double role of Stacey, a baker who lives and works in Chicago and Margaret, the Duchess of Montanero, a city in the fictional European country of Belgravia. Hudgens' Instagram shows that the castle scenes were filmed in Carei, Romania, which served as the background for Belgravia. Netflix's last holiday film, A Christmas Prince, featured a fictional European nation as well — Aldovia — which also used a Romanian castle for it's backdrop.
With the abundance of ridiculously gorgeous castles Romania has to offer, I'm not at all surprised that The Princess Switch used it as a background. However, it's not clear where the Chicago scenes of movie were filmed. As a Chicago native, I didn't recognize any major landmarks or locations in the trailer. But since many of the Chicago scenes shown were indoors, it's entirely possible that they were filmed in a studio somewhere else.
Although it's similar to a A Christmas Prince in that it features a fictional country and royalty, A Princess Switch is different because it follows the story of two women and the fulfillment they are looking for in their lives. Stacey has lived a pretty normal life in Chicago, and is looking for a spark — something full of fantasy and romance. Margaret, on the other hand, has lived her life in the spotlight as a royal, and is just striving for some semblance of normalcy in her life.
Stacey is invited to participate in a European baking competition (similar to The Great British Baking Show), so she ends up flying to Belgravia. There she meets Margaret, who is set to marry the prince of Belgravia, Prince Edward (Sam Palladio) on New Year's Day. When the two meet, they realize that they look exactly alike, and decide that it would be fun to switch places for a few days.
Margaret has to loosen her posture and accent, while she dives into Stacey's life as a baker. In Chicago, she meets Stacey's co-worker and friend, Kevin (Nick Sagar) and his daughter, and must quickly figure out how to bake in preparation for the competition. Meanwhile, Stacey is thrust into a life of royalty, as she spends two days with the Prince, trying to figure out proper royal protocol and etiquette. In the trailer for the film, it looks like the doppelgangers may end up falling for each other's guys, so it will be exciting to see what happens when they switch back.
The Princess Switch isn't the only holiday content Netflix is offering this season. The streamer recently dropped The Holiday Calendar, starring Kat Graham and Ron Cephas Jones, which tells the story of a talented photographer who inherits a magical, future-predicting calendar from her late grandmother. On Nov. 22, Netflix is set to release Chris Columbus' The Christmas Chronicles, which stars Kurt Russell as Santa Claus, and follows two siblings as they accidentally crash Santa's sleigh on Christmas Eve, and then try to help him save Christmas. There's also good news for fans of A Christmas Prince. The streamer is releasing the sequel, A Christmas Prince: The Royal Wedding, on Nov. 30, which picks up where the last film ended.
You know Christmas is around the corner when you start filling your life with holiday movies and music. Luckily, with Netflix's holiday movie lineup, including The Princess Switch, it'll be super easy to get your Christmas mojo going.
The Princess Switch premieres on Nov. 16 on Netflix.