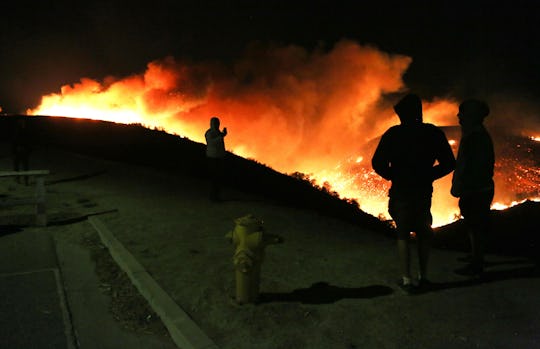 Mario Tama/Getty Images News/Getty Images
Everything You Need To Know About The Skirball Fire Raging In California Right Now
The images are all over social media — the sky ablaze with red and orange flames surrounded by clouds of smoke. What looks like it should be from the scene of a movie is very much a scene in real life for hundreds of thousands of people. In the past few days, you have probably heard about the Skirball fire. But if you're wondering where the Skirball fire is, then you should probably know that it is only in one very specific part of the nation right now, but it's spreading quickly.
If you haven't heard of the Skirball fire, it is probably because you've heard it being referred to as a different name, like the Los Angeles or Southern California wildfires. This is because the first pertains exactly to that area of California. The fire popped up on Wednesday morning, according to CNN, and within the day had reportedly spread over 475 acres with a small percentage of it being contained.
Southern California is a very large area and the Skirball fire is only touching on a small part of that. The fire is threatening affluent areas of Southern California and parts of Los Angeles, according to CNN, including Bel-Air, where several homes were destroyed, according to the Los Angeles Times. Additionally, fires broke out along the very traveled 405 freeway. The photos and videos of the wildfire, shared to Twitter, are incredibly terrifying. It is hard to fathom and imagine a fire of this size, yet for some people, this is their reality.
If you're not familiar with the Los Angeles area, you should know that iconic Los Angeles landmarks like the Getty Museum (home to invaluable pieces of art) and the campus of the University of California - Los Angeles, are in jeopardy due to the flames, according to The New York Times. As of Wednesday, the fire had caused over 200,000 people in Los Angeles and the surrounding town of Ventura to evacuate from their own homes, leaving everything behind right before the holidays.
So far, according to The New York Times, the fires have destroyed more than 300 homes, businesses, and buildings and has forced Los Angeles Mayor Eric Garcetti to declare a state of emergency. It is likely that the fires will continue to burn into Thursday, continuing their path of destruction, according to CNN.
But the Skirball fire is only one of four fires burning in Southern California. This map, shared by the Los Angeles Times on Twitter shows that three other fires — the Thomas perimeter fire, Rye fire, and Creek fire, are all burning in the area. With so much of this area surrounded by fire, the map shows just how much is at stake, especially with Santa Ana winds fueling the spread of the fire, according to Los Angeles Times.
Not only is the wildfire a cause for concern, according to CNN, smoke inhalation is a huge deal too and the smoke will reach more people than the fires do. People in northern Los Angeles, according to CNN, were told to limit their outdoor activity. The Los Angeles Unified School district even cancelled school through Friday due to threatening flames, according to Yahoo! News. The worst part is, according to ABC 7 Los Angeles, it is unclear what caused the Skirball fire to break out.
During the holiday season, there is nothing more that people want than to be with their friends and family in the comfort of their homes. But this forest fire in Southern California is threatening just that. With firemen working their hardest to combat the flames, there is really only so little that anyone can do other than to listen closely to instructions and evacuate when told.
There is so much about the fire that is unpredictable, but knowing about the fire's location and where it has the potential to spread could save lives.
Check out Romper's new video series, Romper's Doula Diaries:
Watch full episodes of Romper's Doula Diaries on Facebook Watch.