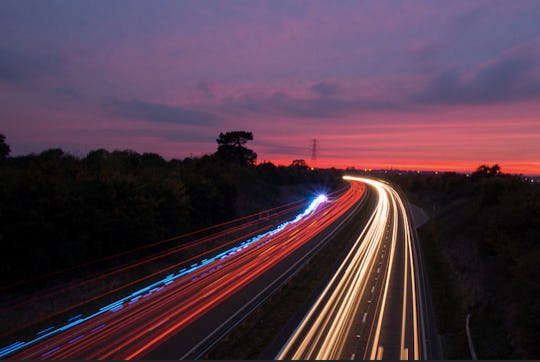 Gary Cadman/Flickr
Where Is The Third Suspect In The San Bernardino Shooting? Manhunt Continues
Update: Late Wednesday authorities identified the two San Bernardino shooting suspects killed in a police shoot-out earlier in the day as Syed Farook and Tashfeen Malik, a woman, and said they had been in a relationship. Farook was a U.S. citizen and an employee of the of the San Bernardino County Health Department. Further details about Malik are not yet known. Police also detained a third individual at the scene, but it's unclear whether or not that person is connected to the shooting at the Inland Regional Center (where officials say they might have found an explosive device).
Earlier: According to a news conference held by San Bernardino Sheriff's Department at 4 p.m. PST, police confirmed 14 fatalities and 21 injuries suffered from the mass shooting at the Inland Regional Center in San Bernardino. Police confronted two suspects, gunfire ensued, and authorities announced in a press conference Wednesday evening that the two suspects, one male and one female, were killed. But police also seemed to be searching for where a third San Bernardino suspect might be hiding.
After a police chase that began around 3 p.m., a SWAT team pursued a black SUV believed to contain suspects in Wednesday's deadly shooting. The SUV was spotted approximately one mile from the attack at the Inland Regional Center in a residential neighborhood. At one point in the chase, suspects in the SUV reportedly fired back at officers, according to ABC7. Additionally, according to the San Bernardino Sheriff's Department, one police officer was injured in the shootout as SWAT units pursued the SUV. The suspects the police confronted have not yet been identified, nor have the names of the victims of the shooting at the Inland Regional Center shooting been released to the public at this time.
To find the third suspect, officers were seen going through the backyards of homes in the suburban California area.
In the most recent press conference, the Sheriff's Department says tips lead investigators to a residence in Redlands where the black SUV was first spotted by police, who then gave chase. The Redlands area in California is now under an FBI raid. Investigators have yet to rule out this attack as an act of terrorism.
But what about that third shooter? Though a third person has been detained, it is unclear if that individual was involved in the shooting. According to CNN, this person did not have a weapon on him (he was identified as male) at the time, nor was he dressed in "tactical gear" as were the two identified shooters. However, it's possible that the third suspect ditched his clothing and weapon before he was apprehended by police.
Questions about the third shooter could be answered as investigators examine the SUV. If a third weapon is discovered, that might indicate a third shooter.
Image: Gary Cadman/Flickr