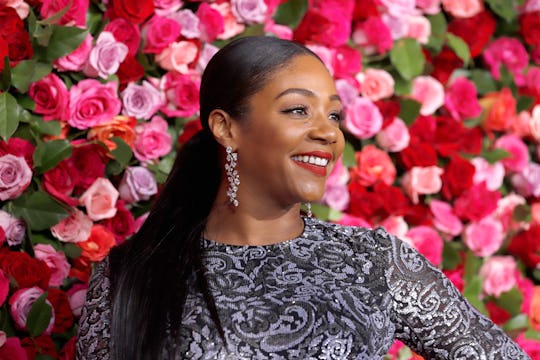 Jemal Countess/Getty Images Entertainment/Getty Images
Where Is Tiffany Haddish From? The MTV Movie & TV Awards Host Is Open & Proud Of Her Roots
If you've been paying any attention at all to pop culture during the last year or so, you've definitely heard of Tiffany Haddish. The hilarious, vivacious, smart, and honest actress and comedian has definitely made her mark in Hollywood, and as she's the host of this year's MTV Movie & TV Awards, it's only fair to wonder a bit more about the superstar. Like, where is Tiffany Haddish from and how did she get started in her impressive career?
As it turns out, the Girls Trip star hails from the city of Angels, having been born and raised in Los Angeles, California, according to Biography. But her life hasn't always been full of the glitz and glamour we see today. In fact, when Haddish was a young girl, according to Hello Giggles, her late father left her and her family, and she didn't see him again until she was an adult. Then, when she was just a young, 9-year-old girl, Haddish's mom was in a car accident that caused severe brain damage, according to People, and she and her five siblings had to be split up into foster care homes.
Though her childhood was filled with trying and heartbreaking moments, Haddish's career might not have gone as it has if she had not grown up in Los Angeles. According to People, it was actually a social worker who had recommended that Haddish try out her comedic talents and go to the Laugh Factory Comedy Camp. From there, well... the rest is history.
Though she's unstoppable now, Haddish's career success wasn't immediate. In an interview with Vanity Fair, Haddish revealed fellow comedian Kevin Hart gave her the resources and advice she needed to make a name for herself, and after finding out that she was living in her car in Beverly Hills, Hart stepped in to help. According to Vanity Fair, Haddish shared that Hart gave her $300 to get a motel room for a week and told her "to write out a list of goals and start doing something every day toward those goals."
Since then, Haddish has obviously come a long way and has become a force to be reckoned with, but she also recognizes that she wouldn't be who she was without the challenges she faced growing up. In the same interview with Vanity Fair, Haddish made it clear that, despite her struggles as a child and young adult, she was determined to remain positive. "I made a decision to not be the stereotype," she told the publication, adding:
If I'm gonna be a statistic, I'm gonna be a good statistic... I started thinking more positive, you know? I kinda believe in magic. I feel like magic is a way that you think, it's like that what you put out is what you get back.
Haddish has had one heck of year — along with her hosting gig at the MTV Music & Movie Awards, she had a starring role in the blockbuster hit, Girls Trip — and it's clear she's proud of it, but she's also very proud of her humble roots. Back in March, when she hosted Saturday Night Live, Haddish revealed that she was, in fact, re-wearing the same dress she wore on the Girls Trip red carpet. "I feel like if I pay good money for something, I wear it when I want, however many times I want, as long as I Febreze it," Haddish said of the $4,000 Alexander McQueen gown, according to ELLE.
Even though she's now made it big and probably has designers knocking at her door to dress her, Haddish hasn't forgotten where she came from and remains down-to-earth in many ways. Los Angeles is a big town and Hollywood is a tough industry, and Haddish's success story is so inspiring.
And you know what else, y'all?
She ready!