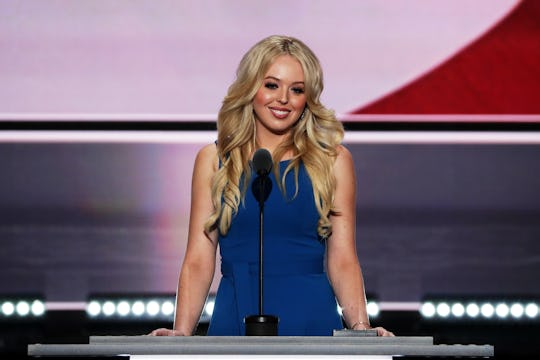 Alex Wong/Getty Images News/Getty Images
Where Is Tiffany Trump At The Second Presidential Debate? She Didn't Walk Out
The second presidential debate is finally here. The families of both candidates were sitting front row center at the town hall style meeting. Trump's youngest daughter, Tiffany, was interestingly nowhere to be seen. Tiffany Trump is present at the second presidential debate, but is seated off camera. A reporter for the Wall Street Journal spotted the most private Trump being brought inside the debate hall a few minutes before her siblings. Tiffany took a seat further back than Ivanka, Eric, and Donald Junior.
It's not surprising Tiffany decided to remain out of the spotlight at this debate. She is by far the most private of Donald's children. The New York Times recently published a profile on Tiffany titled "The Other Trump." Unlike most magazine profiles, Tiffany did not sit down for an interview. Instead, the NYT was given an approved list of people they were able to contact about their subject. Tiffany did, however, participate in a photo shoot for the profile.
Tiffany is the daughter Donald and his second wife, Marla Maples. Unlike her four siblings, Tiffany grew up in California and was raised by her mother. She has lived a relatively private life until her father became the Republican nominee for the 2016 presidential election. And as Election Day approaches, Tiffany is gearing up to take on a larger role in supporting her father's presidential bid.
Tiffany's most public appearance was when she took to the stage at the Republican National Convention. "Please excuse me if I'm a little nervous," she said to the RNC crowd, "when I graduated college a couple of months ago, I never expected to be here tonight addressing the nation. I've given a few speeches in front of classrooms and students, but never in an arena with more than 10 million people watching."
While Tiffany did not grow up in New York with her father and siblings full time, she has followed in her father's footsteps. She graduated from the University of Pennsylvania, her father's alma mater, as part of the class of 2016. It's reported that she plans on going to law school.
While many believe Tiffany will take on a larger role in her father's campaign, it seems she has decided to take a back seat at the debate (and that's totally fine). She's present to support her father as he takes on his debate opponent, but is quietly remaining out of the camera's view.
Like a true millennial, it seems as though Tiffany prefers to show support for her father like any other 20-something would: She's constantly tweeting her love and support to her father and siblings as they barrel towards Election Day. Perhaps she'll post something about Donald's performance at the second presidential debate. Or maybe she won't. But she's there, and I think even Trump would agree: that's what matters.