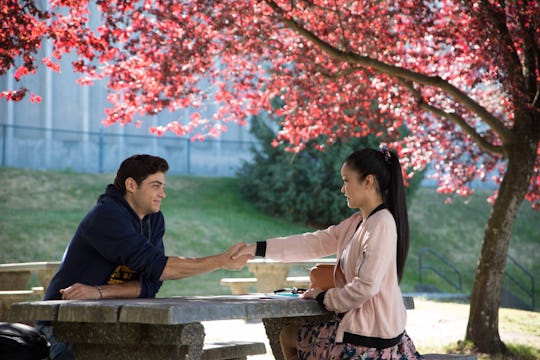 Masha Weisberg/Netflix
The School From 'To All The Boys I've Loved Before' Might Be Very Familiar
To All The Boys I've Loved Before looks like a somewhat typical teen movie from the trailer: it takes place at a big school surrounded by picturesque suburbs, with beautiful trees and rolling lawns. It's the kind of idyllic but hard to place backdrop that features in countless teen movies. It looks nice, but not necessarily distinct. So where is To All The Boys I've Loved Before set?
The Netflix movie, which debuts on August 17, is actually based on a young adult novel of the same name. It was written by author Jenny Han, who would go on to write two more books in the same series: P.S. I Still Love You and Always and Forever, Lara Jean. In a conversation with Publisher's Weekly, Han discussed how her own upbringing influenced Lara Jean's. Han and her main character share similar family connections (both have beloved sisters) as well as the place where they were raised. Han grew up in Virginia, and that played a big part in Lara Jean's story. In later books when Lara Jean goes off to college, her application list is stacked with nearby universities, because staying (relatively) close to home is important to her.
There are some slight differences, though. According to the Korea Times, Han grew up in Richmond, VA, which was also where she started writing long before she pursued it as a professional career. She eventually went on to attend the University of North Carolina at Chapel Hill. Lara Jean, however, lives in Charlottesville — though she also shares an affinity for UNC. But despite the tiny location shift, it's clear that Han's affection for her home state transferred over onto the fictional Lara Jean. While talking to Korea Times, Han mentioned how much support she still gets in Richmond:
I think it gave me a tremendous amount of pride and also support. I think Koreans are innately proud of Korean culture and fellow Koreans' success. When I have a book signing in Richmond, the whole Korean community shows up for me and cheers me on.
If you're a Virginia native, then you might find yourself pointing out a landmark or two while reading Han's trio of books. However, the scenery in the Netflix film might be less familiar. Though it maintains the novel's setting, To All The Boys I've Loved Before was shot in Canada, per What's Filming. Specifically, they filmed in Vancouver, British Columbia, with the Point Grey Secondary School standing in for Lara Jean's high school. Star Lana Condor was allegedly filming in Fort Langley as well.
If Lara Jean's school looks familiar when you tune in to watch the movie, that's because the Point Grey Secondary School has served as a set for several other films and shows. According to IMDB, She's the Man was filmed there. The shows Life As We Know It and Lucifer filmed there too, as did parts of Riverdale. And while Superbad wasn't shot there, its writers Seth Rogen and Evan Goldberg attended Point Grey Secondary. They based the film on their own high school experiences, which was reported by CBC News. Point Grey was where they first met, and they even named their production company after it.
So while the atmosphere of To All The Boys I've Loved Before might not be quite as reminiscent of Virginia as you might expect, there's a chance it's going to be very recognizable all the same. And something tells me that Lara Jean's noted love of teen movies means she would be delighted to walk the same halls as Amanda Bynes and the assorted cast of Riverdale.