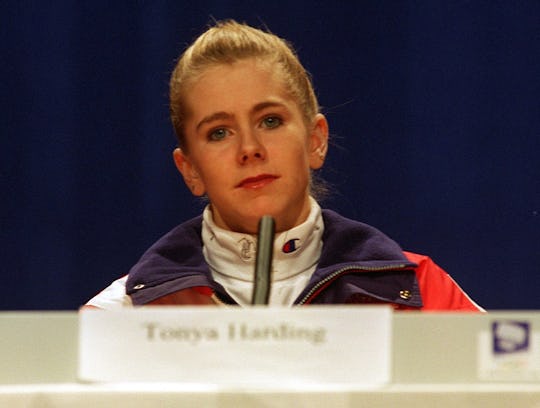 Phil Cole/Getty Images Sport/Getty Images
Tonya Harding Has Moved Beyond The Scandal That Followed Her
Margot Robbie stars as figure skater Tonya Harding in the upcoming film I, Tonya, a dark comedy that explores Harding's rise to fame and the destruction of her career. Many are familiar with Harding's 1994 scandal: her ex-husband Jeff Gillooly plotted to sabotage rival skater Nancy Kerrigan by hiring a man to hit her in the knee with a baseball bat. The brutal act put an end to Harding's Olympic chances, but what happened to her in the aftermath? Where is Tonya Harding now?
Harding denied having anything to do with Kerrigan's attack and claimed she had no idea Gillooly was involved, but she was convicted of hindering the investigation and admitted that she did not come forward once she learned the truth. That resulted in three years of probation, five hundred hours of community service, a $160k fine, and a lifelong ban from the U.S. Figure Skating Association. Harding alleged that part of the reason she kept quiet about Kerrigan's attack was because of her abusive relationship with Gillooly, who had threatened and raped her shortly after Harding discovered what he did.
Things didn't go well for Harding in the intervening years. According to an interview with People in 2008, she was arrested for domestic violence and drunk driving and attempted suicide twice.
Harding attempted to move on from skating by taking up boxing, first stepping into the ring for the Fox reality show Celebrity Boxing. She continued with professional boxing after the show's quick cancellation, but did not enjoy the sport and felt that it wasn't true to who she was. She took up different entertainment jobs, trying her hand at music by forming the band The Golden Blades and then becoming a commentator on TruTV's The Smoking Gun Presents: World's Dumbest...
After divorcing Gillooly, Harding was married twice more. She divorced Michael Smith after just a year together and then married her current husband Joseph Jens Price in 2010. They later welcomed a son, Gordon. Harding's friend Don Horn (who apparently met her after staging a production of Tonya & Nancy: The Rock Opera in 2008) told The Oregonian at the time, "She's always wanted a baby. She was told she could never have a child...and guess what? It really is a miracle and she really is very happy."
Harding hasn't spent very much time in the limelight in the last few years, but an unnamed friend of hers gave People some insight into how she feels about the movie made about her life. According to them, Harding was looking forward to her story being told on the big screen. "She knows she's not a saint, and doesn't expect to be shown that way," the friend said. "But all she has ever wanted was for people to look beyond the headlines and see that she's a real person who hasn't gotten a lot of breaks in life."
Harding spoke about Kerrigan in 2009 when she was interviewed on The Oprah Winfrey Show. When asked by Winfrey what she would say to Kerrigan, Harding said, "I'd love to give her a hug and just tell her how proud I am of her, being able to, you know, go forward with her life and everything and stuff like that and congratulations on her children." Harding also felt she had apologized enough for the 1994 attack, though Kerrigan told ABC News that she had never received a direct apology for what happened.
In the same interview, Harding went on to say, "[Kerrigan has] moved on, I've moved on. It's part of history that will always be with us, but I'm also noted as the one and only American woman that did the first triple axel, you know. And those are the things no one can take away from me."
These days Harding seems to be living quietly in Oregon with her husband and son.
Check out Romper's new video series, Romper's Doula Diaries:
Watch full episodes of Romper's Doula Diaries on Facebook Watch.